Welcome to the second in our series on branching out beyond simple homemade yogurts. Last week, I talked about the different ways to modify ingredients and processes to make out-of-the-ordinary cultured dairy products. Today's entry, Dutch Apple Yogurt, is a thick, creamy French-style, pot set yogurt, made with caramelized milk.
Caramelizing the milk before you culture the yogurt gives a delicious sweetness to the finished product. And it's really not that much extra work. I just place my milk in a casserole dish in my oven set at 185º F overnight, then let it cool back down to lukewarm before adding the culture. When I open my oven in the morning I'm greeted by the most delicious sweet, caramel aroma. Which just naturally, in my mind, goes with apple pie filling.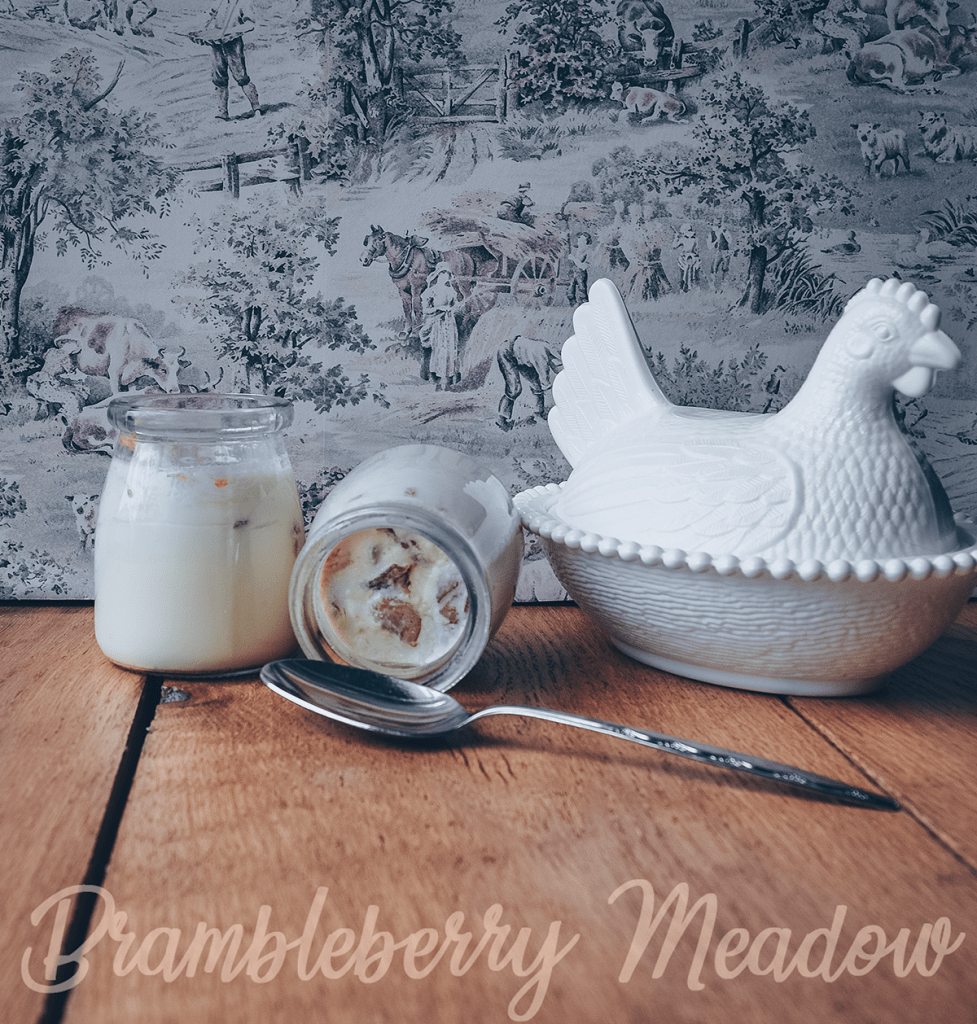 For this recipe, you'll need a French yogurt culture. You can use a spoonful of purchased vanilla yogurt, or you can get a wonderful version from my friends at Positively Probiotic. You'll also need some sort of incubator. I have a small yogurt maker I bought on Amazon, years ago. And my Instapot has a yogurt setting. If you have neither, you can use the cooler method. Although I'm finding these days that I make enough different kinds of yogurt that I like having both incubators available.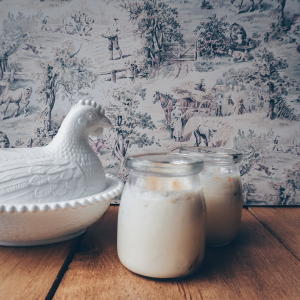 Dutch Apple Yogurt
A creamy, pot-set yogurt made with caramelized milk
Ingredients
Yogurt
3

c

whole milk

1

c

half-and-half

1

tsp

vanilla paste

or 1/2 tsp vanilla extract

½

c

honey

1

Tbsp

French yogurt mother culture

or 1 Tbsp of purchased vanilla Fremch yogurt
Apple Compote
1

med

Apple

choose a sweet-tart variety

1

tsp

sugar

adjust based on sweetness of apples

½

tsp

cinnamon
Instructions
Place the milk and half-and-half into a baking dish. Put in the oven at 185F overnight or for at least 8-12 hours. Allow to cool back down to 110F.

While the milk is cooling, make the apple compote. Peel, core, and dice the apples. Combine them in a small saucepan with the sugar and cinnamon. Cook until the apples soften. Allow to cool.

Place a spoonful of apple compote into the bottom of each of 6 glass yogurt jars, dividing evenly.

You can either remove the caramelized skin from the milk and discard it, or stir it in, depending on your preference. The skin WILL keep it's texture even after culturing. Into the milk, stir the honey, vanilla paste, and yogurt culture.

Fill the jars with the yogurt mix, place them in your preferred device, and incubate for 12 hours. Check your yogurt at around 10 hours, and remove from the incubator when it has become as tart as you prefer.
This yogurt has a thick, creamy texture and a caramelly sweetness. It's a new favorite of my kids, and I'll have to make more, soon!
Let me know in the comments if you've making Dutch Apple Yogurt. Or what other flavors you plant to combine with caramelized milk. I'm thinking maybe blackberries and pecans might be good, too.
As a note, you can use all whole milk, forgoing the half-and-half if you like, although your yogurt will be a bit less creamy.