Extra Creamy Malted Hot Cocoa Mix
Why Malted Hot Cocoa Mix? Like a lot of other people, when supply chains started to fail here and there in the last few years, I laid in a few emergency supplies. And never really did have cause to make use of all of them. One of the things I currently have in abundance is powdered whole milk. And along with it, a bit of powdered heavy cream.
And I said to myself, "Self," (that's what I call myself when we're alone) "what are you going to do with all this powdered milk?" I've incorporated it into my baking, and that works well. But I find I use it only a little at a time. While the container it came in was quite large.
Then the weather began to turn. The wind off the Lake has picked up a cool, wet feel. The berries on the autumn olives are turning red as their cheeks get pinched by the breeze, and the birches are putting on their golden gowns. It's officially Cozy Season.
Which, in my world, is hot chocolate season. As often as not, I make actual hot chocolate. In a saucepan with milk, a bit of cream, and a good, high-quality chocolate. But it's also very nice to have a handy mix available. Especially since my other Cozy Season indulgence has been a pretty new tea kettle for heating water.
I hope you opt to mix up a batch of your own and tell me how you like it. Remember to use dried whole milk, not non-fat. Or, if you choose to use nonfat milk, double the dried cream!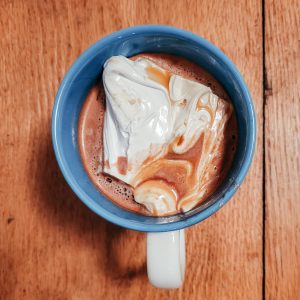 Extra Creamy Malted Hot Cocoa Mix
Ingredients
2

c

powdered whole milk

1

c

high quality cocoa poder

2

c

powdered sugar

½

c

powdered cream

½

c

malt powder

Carnation Malted Milk Powder works well

1

tsp

instant clear jel

cornstarch is OK, too

½

tsp

popcorn or pickling salt
Instructions
Sift all the ingredients together into a large bowl. Stir to combine. Store in an airtight container.

To use, spoon 4-5 heaping spoonfuls into a mug. Add a little hot water and make a paste, stirring until smooth. Add more hot water to make 8 oz. Serve with whipped cream or homemade marshmallows, if desired.
Pro-tip: You can get whole milk powder online. Or you can often find it at large retailers like Walmart. My local store stocks it in the International Food section. Here in the United States, we have a whole system and a way of cooking and baking based on a long tradition of refrigerated transport. In other parts of the world, that tradition didn't exist. So they have a much wider and deeper selection of preserved dairy products. These can be wonderful additions to your pantry and to your baking repertoire.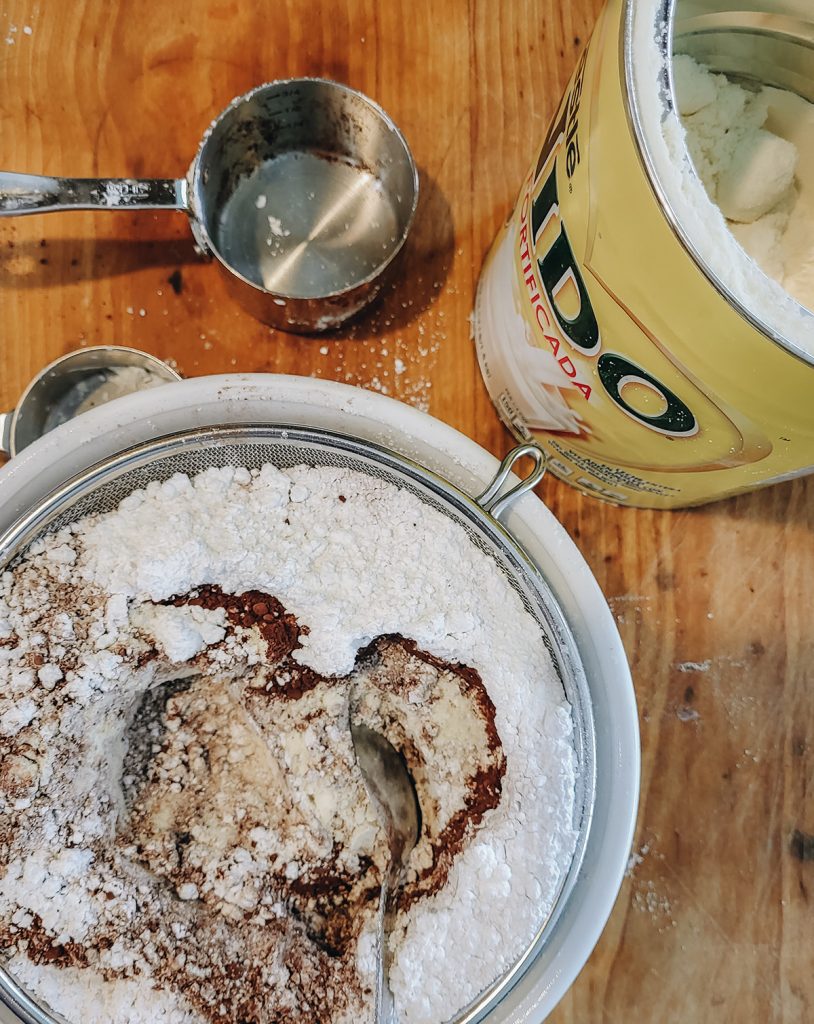 The quality of your cocoa can also make or break you for this recipe. Average grocery store baking aisle cocoa isn't your first choices. I use Gerkens, in part because my local health food store carries it in bulk. I've also used Droste or Guittard with good results.
You can also change up the flavor profile a bit, if you want, as well. Add some vanilla powder, if you like. Or, if Malted Hot Cocoa Mix isn't your bag, leave out the malt powder and add 2 tsp cinnamon and a knife point of cayenne pepper. (And by that I mean, use a paring knife and lift just a tiny amount of cayenne powder from the jar to add to your mix). Or, add 2 Tbsp of instant espresso powder if you want a deeper chocolate flavor.