Cherry-Berry Kringle Recipe
Sometimes, it's good to just spend a day elbows-deep in flour. And this was a good day for it, since we were supposed to get more snow. That didn't happen, but my Valentine got a special treat, anyway.
I give you the Cherry-Berry Kringle: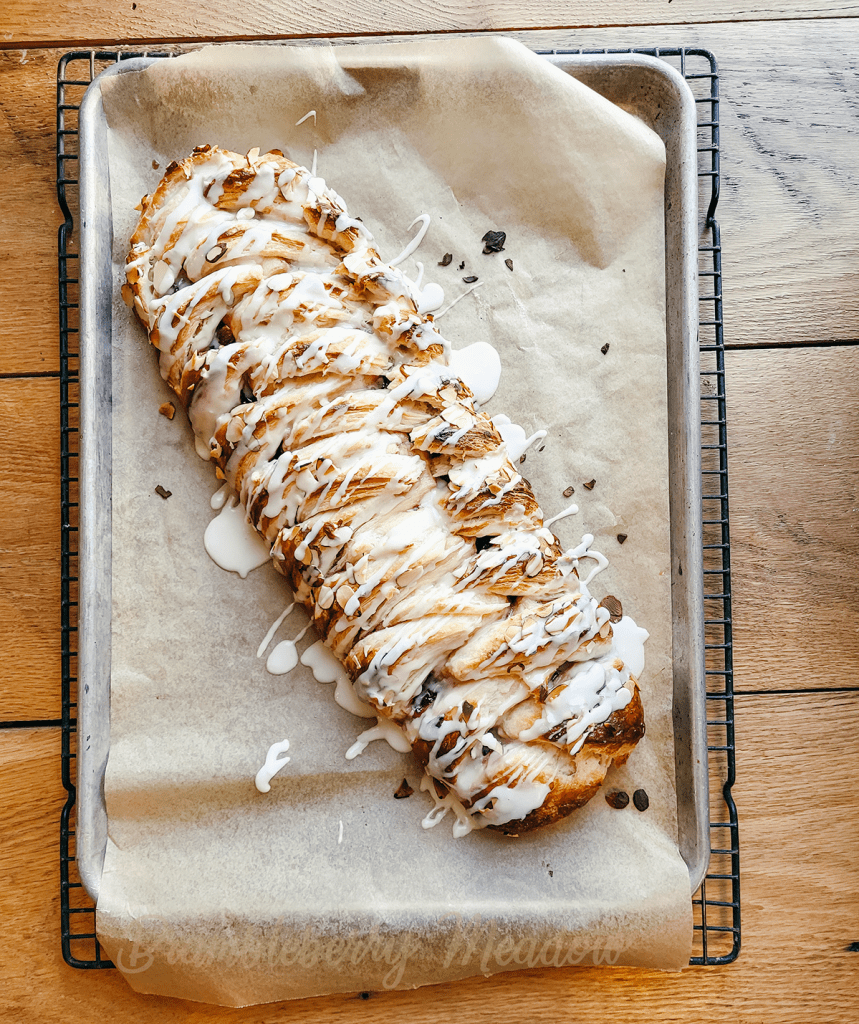 Now, there a lot of kringle recipes in the world. The original Scandinavian kringle was more of a savoury dish, and nearer to a pate a choux than a flaky pastry. While the classic version found most often in Minnesota and Wisconsin that's called a Danish Kringle is sort of a kringle by way of Austria.
It's this type of Kringle that most Americans are most familiar with – puff pastry with a fruit or almond filling, often twisted into a "pretzel" shape.
Whereas this is my "lazy woman's kringle recipe." I used rough puff pastry, and some jam from this past summer. I can – and have – make actual puff pastry. But I was not in the mood today. Like many of the contestants on The Great British Baking Show, there are times when I find real puff worth the effort. And times when it's worthwhile to shortcut with this version. I'll run you through the basic steps for rough puff, but if you're never tried it, you might want to hit youtube for a video. It's not hard, just a little fiddly.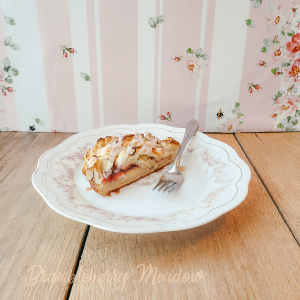 Cherry-Berry Kringle
Rough puff pastry with a jam filling
Ingredients
Pastry
226

g

unsalted butter (2 sticks)

390

g

all-purpose flour (3 c)

3

g

kosher salt (½ tsp)

65

g

sugar (¼ c + 1 Tbsp)

1

c

milk

2 ¼

tsp

instant yeast (1 packet)

1

large egg

1

egg white, lightly beaten

2

Tbsp

sliced almonds
Filling
½

c

jam, jelly, or preserves
Icing
15

g

unsalted butter (1 Tbsp)

pinch

kosher salt

94

g

powdered sugar (¾ c)

½

tsp

almond extract

1

Tbsp

milk
Instructions
Dough
Grate the butter on a coarse grater into a large bowl. Put the bowl in the freezer for a few minutes.

Meanwhile, warm the milk to about 110 F, just warm. Stir in about 15 g (1 Tbsp) or sugar, and the yeast. Set aside for about 10 minutes.

Add the flour, remaining sugar, and salt to the butter. Work the butter into the flour with a pastry blender or your hands until it's the size of small peas.

Beat the egg into the milk mixture, then add the liquids to the flour and butter mixture. Stir until it just comes together. Wrap the dough in plastic wrap, and place in the refrigerator until chilled through. About 4-6 hours, or overnight.

Remove the cold dough from the refrigerator, and roll into a large rectangle, about ⅜" thick. Fold one third of the dough to the center, then fold the other third over it. Turn the folded dough, and roll out into a rectangle again. Repeat the folding and rolling for a total of three sets of folds.

If, at any time, the dough gets soft, put it back in the refrigerator for a few minutes. After all three sets of folds are complete, wrap the dough in plastic wrap again and let it rest in the refrigerator for an hour.

Roll the chilled dough out into a long rectangle again. Spread the jam down the middle of the dough, staying at least an inch away from the edges at either end.

Slice the dough diagonally from each edge, almost to the filling. Seal one end of the dough (use a bit of the beaten egg white), then fold the sliced dough over the filling, alternating between sides.

When you reach the end, trim the corners off, then crimp the dough together at the bottom, again, using a bit of egg white to seal. Gently transfer the kringle to a parchment-lined baking sheet, placing diagonally so it has enough room. Allow to rise in a warm place for about 45 minutes, or until slightly puffy.

While the kringle is rising, preheat the oven to 375 F. Once it's risen, brush the kringle with the egg white, and sprinkle with almonds. Bake for 22-25 minutes, until golden brown and puffed up.

Allow the kringle to cool slightly, then drizzle with icing.
Icing
In a small bowl, melt the butter. Stir in the sugar and salt. Add the almond extract, then the milk, bit by bit, until a drizzling consistency is reached. You might need a bit more milk.
Notes
I used some cherry-raspberry jam that I'd made this past summer.  But lots of other flavors would be equally tasty.  Raspberry, apricot, ligonberry, or cloudberry?
And there you have it. An excellent pastry for breakfast, or guests. Or just because it's supposed to snow.
If you'd like to make my cherry-raspberry jam, the recipe is here. Of course, it IS the middle of February, which means cherries and raspberries are a little thin on the ground. American Spoon Foods makes a Cherry-Berry conserve that will work, too, although it's a little chunkier.