Lusikkaleivät – Finnish Teaspoon Cookies
The Nordic countries just have the best Christmas baked goods, to include these uncommon Finnish Teaspoon Cookies. I love these little shortbread sandwich cookies. Lusikkaleivät are simple to make, delicious, and a perfect little sweet bite. The real deal from Finland uses vanilla sugar – which is quite a different thing from American vanilla sugar. I used vanilla paste. But if you like, you can just use some extract. You MIGHT need an extra Tablespoon of flour.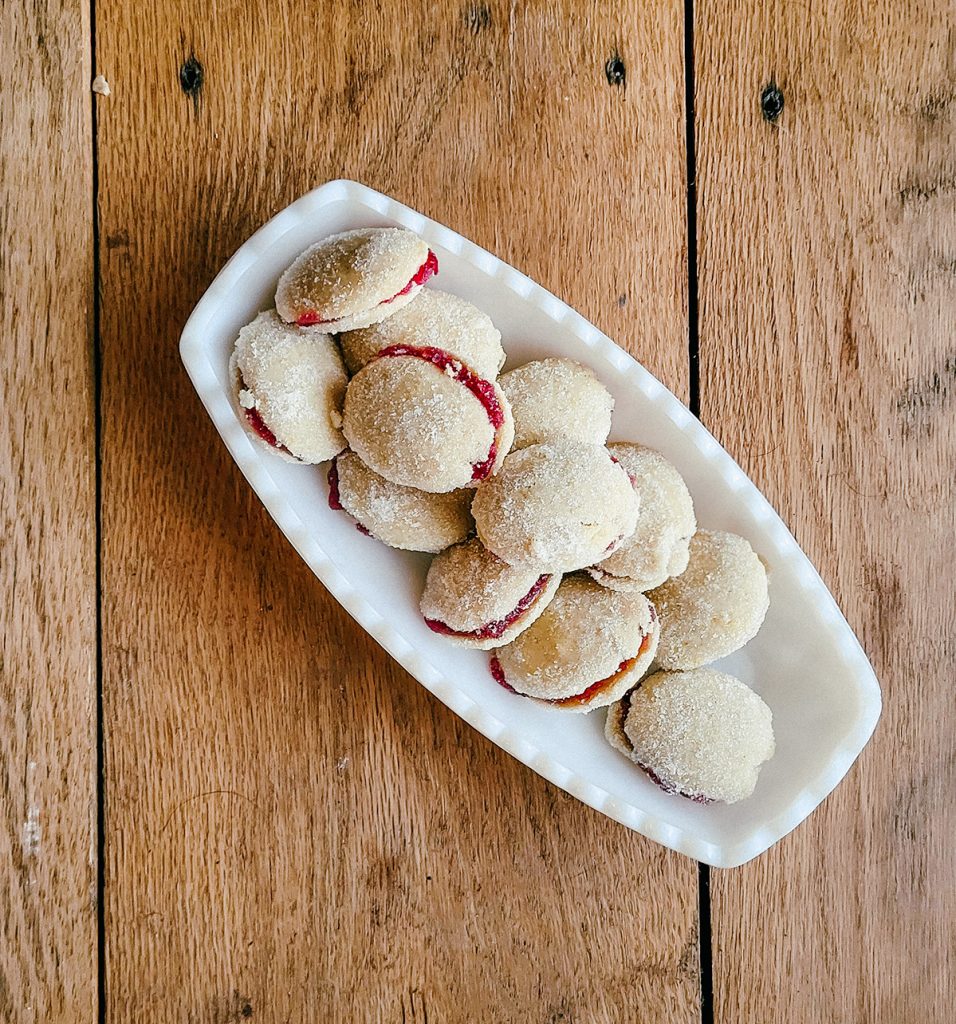 Choose whatever jam you find most appealing. Raspberry is pretty traditional. I used a jar of Keewenaw Kitchens Triple Berry Jam – a mixture of strawberry, raspberry, and blackberry. It seemed fitting. Much of Michigan's Finnish population is in the U.P., so a U.P. based jam was appropriate. You can order your own online from Sequin's House of Cheese.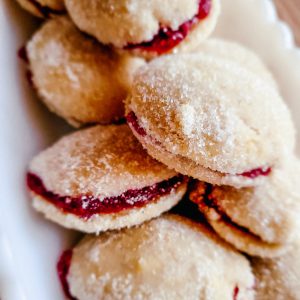 Finnish Teaspoon Cookies – Lusikkaleivät
Ingredients
200

g

unsalted butter

15 Tbsp

150

g

sugar

¾ c

1

tsp

vanilla paste

or 1 Tbsp extract

1

egg yolk

½

tsp

kosher salt

1

tsp

baking soda

220

g

flour

1 ¾ c.

jam, about 3/4 c.

sugar for rolling
Instructions
Preheat oven to 325 degrees. Prepare cookie sheet with parchment paper.

In a small saucepan, melt the butter. Continue cooking over medium heat until it begins to brown. Remove from heat and set aside to cool.

Stir sugar, butter, vanilla paste, and egg yolk into butter. Mix well.

Sift together flour and soda, then add to sugar/butter mixture. Stir until a stiff dough forms.

Take a teaspoon and fill with dough. Press the spoon firmly against the side of the bowl and wiggle it until it is filled with dough. Remove the dough from the spoon by sliding it gently off the spoon and onto your fingers. Place on the baking sheet. Repeat until all dough is used. The cookies don't spread much at all, so you can place them quite close together.

Bake for about 10 minutes, until well set. The cookies don't brown much at all. Remove from the oven and cool on cookies sheets. They're very fragile when warm.

Take one cooled cookie, spread with a small amount of jam, then top with a second cookies. Roll the cookie sandwich in granulated sugar in a small bowl.

Store in an airtight container. These actually are better the second day, as the cookies absorb some of the moisture from the jam. This makes them excellent for sending to distant relations.
You can serve these little jam-filled gems to unexpected visitors, or use them to fend off hungry family waiting for Christmas dinner to be ready. Make a quick batch to keep on hand throughout the season.