Hangop – Dutch Yogurt Mousse
Today, I introduce you to Hangop, which basically means "hang up" in Dutch. Because that's how you make up. It's another simple dish to make with cultured dairy. You "hang up" yogurt to drain off the whey, then mix in some sweetened whipped cream. And then serve it with some tart fruit. I had raspberries, so I went ith that. Cherry compote would be good, or rhubarb sauce. Maybe even some tart apples cooked until they're tender with a bit of sugar.
One of the things I'd like you to take away from this is that you don't have to be all that fussy about a lot of old-fashioned foods. Sometimes we overcomplicate things, especially cultured dairy, thinking that if we don't have just the right starting culture or just the right dairy or just the right process, it isn't "right." In fact, once you develop a certain skill set in terms of manipulating the variables, you can make what you'd like even if you don't have "just the right" ingredients.
For this batch, I made some Skyr. And I didn't even do that "right" – I couldn't find my skyr culture in the freezer. So I used a piima culture, and let it ferment at room temperature overnight, and then let it drain 24 hours, instead of just 12. Ta-da!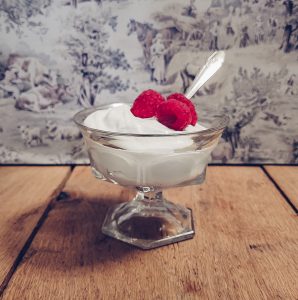 Hangop
Dutch Yogurt Mousse Dessert
Ingredients
4

c

plain yogurt

or 2 c skyr, which is already drained

1

c

heavy cream

¼

c

sugar

1

tsp

vanilla extract

½

tsp

almond extract

Fruit or jam to top
Instructions
Place the yogurt in a collander that is lined with cheesecloth. Allow to drain at least 12 hours, until very thick.

Transfer the yogurt into a bowl (save the whey for a batch of Honey Whey Bread). Stir until smooth.

In another bowl, beat the heavy cream to soft peaks. Add the extracts, and gradually add the sugar, continuing to beat until well combined.

Add a small amount of the whipped cream to the yogurt, and stir in gently, to lighten it. Then transfer the rest of the whipped cream into the yogurt mixture, and gently fold until well combined.

Serve with fruit topping as desired.
Notes
If you use skyr, you can skip the draining step, and use half the volume.
As always, I get my cultures from Positively Probiotic. And of course, use the freshest dairy you have for the best results. This was a simple, delicious dessert, and doesn't take a lot of effort – just some planning ahead to "hang up" the yogurt for your hangop.