One of the frustrations when searching for vintage cookbooks with Dutch recipes is the fact that it's hard to filter out actual Dutch recipes that were a part of immigrants' cooking traditions from "Pennsylvania Dutch" recipes. I strongly suspect that Dutch Honey Syrup is more the latter, as it strikes me as a frugal and easy substitute.
In other words, this is what you make to put on biscuits or other breakfast foods when you don't have actual honey. However, I am not one to look a gift horse in the mouth. So, I've tweaked the recipe just a bit to have a bit more of a real Dutch feel. Which means I added almond extract.
Dutch Honey Syrup definitely is good on biscuits. It's also delicious on pancakes, waffles, and – my favorite – aebleskivers. Those are Danish pancakes, and I'll definitely have to share a recipe for those soon, now that I have a good cast iron pan. For now, enjoy the syrup!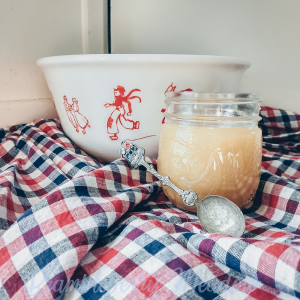 Dutch Honey Syrup
An easy homemade topping for waffles, pancakes, aebleskivers, or biscuits!
Ingredients
½

cup

unsalted butter

1

cup

sugar

1

cup

heavy cream

½

tsp

kosher salt

½

tsp

vanilla extract

½

tsp

almond extract
Instructions
In a medium sauce pan, over low heat, melt the butter. Stir in sugar, cream, and salt. Raise the heat to medium and bring to a boil. Reduce heat and simmer gently for about 5 minutes, until the syrup begins to thicken

Remove from heat. Cool slightly. Stir in extracts, and serve.
You can store extra syrup in the refrigerator for a week or two. Just warm it up a little bit to serve, being careful to stir it until any crystals that may have formed are dissolved again.
Whenever you use flavor extracts, it's best to let your sauce or batter cool just a bit before you add them. Extracts are alcohol-based, and super hot batters will cause them to evaporate and be less flavorful.
I hope you enjoy this recipe for Dutch Honey Syrup, even if it's not Dutch in the strictest sense. I promise a more authentic recipe later this week, so stay tuned!
Oh, and my favorite source for good almond extract? Beanilla. Almond extracts seem to vary in their flavors quite a bit more than vanilla. Beanilla's almond extract has the flavor profile I associate with the Dutch pastries and cookies from my childhood. I get my vanilla from them, too, because it's quality stuff.
Pin this post: