Fireworks and Cherry Bombs
Happy Independence Day! I've laid out my thoughts on celebrating and how important it is to do so in this week's podcast episode. (Head over to the podcast website, or listen to the Vintage Americana podcast on your favorite app).
For a lot of reasons, we're staying closer to home this year. Our small-town fireworks were canceled – since no one knew if they would be permitted to take place back when the City had to commit to their purchase. But I do still have some good pictures from a few years ago, when I set up my camera and tripod. I'll share.
Rather, we're doing other traditional things at home – hot dogs on a charcoal grill for dinner. I'd meant to make a pie, but…
I did have to work this weekend, and tried to get some pie cherries on my way home. This ended up being more difficult than I anticipated. My favorite orchard had a sign out front, "No cherries this year." Thwarted, I ended up stopping at another orchard, about a half mile away. There were sweet cherries – but no sours.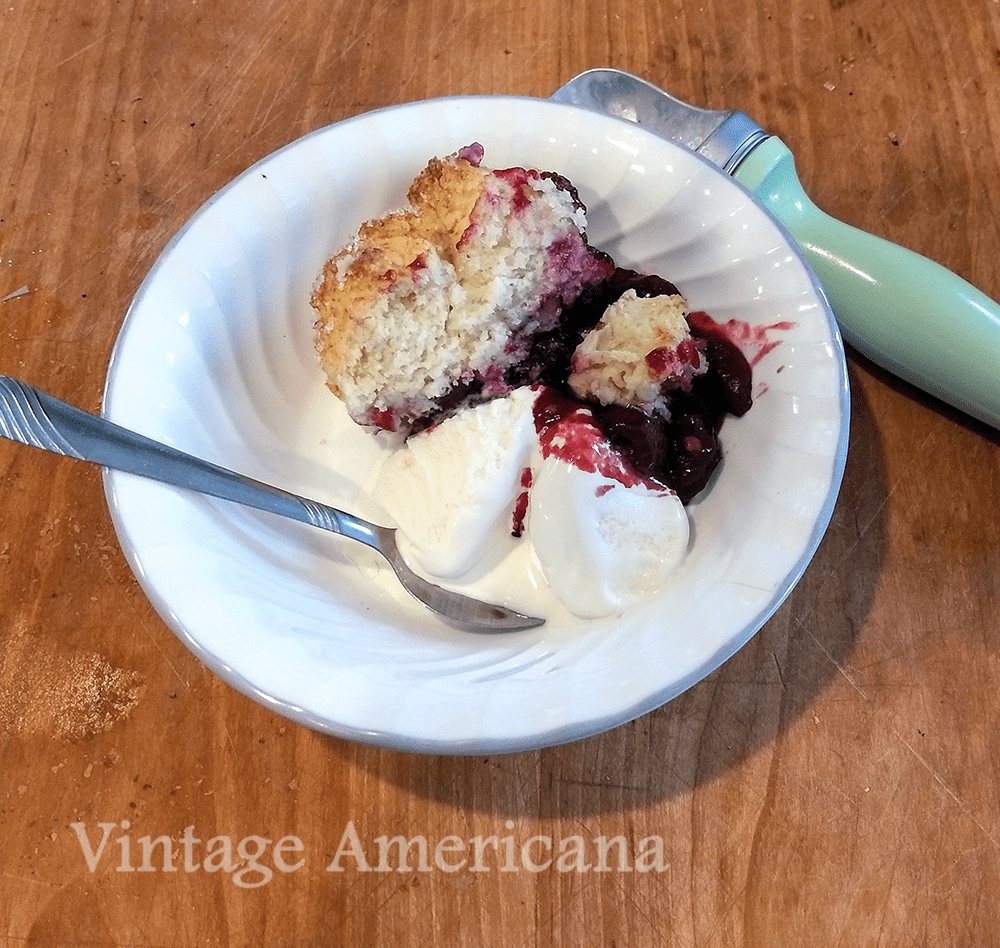 Black sweet cherries aren't quite as amenable to pie-making. You can do it, but it's not quite the same. Instead, I opted to make cobbler. First, I'm lazy, and second, the slightly sweet biscuit topping of my favorite recipe goes better with sweet cherries.
This is also one of those rare recipes that can be made gluten-free just by swapping out the flour, cup for cup. It isn't usually that easy.
Black Cherry Cobbler
Preheat your oven to 450 degrees.
Filling
2-1/2 lbs black, sweet cherries, halved and pitted
1/2 c. sugar
juice of 1/2 lemon
1/4 tsp almond extract
1/4 tsp cinnamon
2 Tbsp Instant ClearJel (You can substitute 3 Tbsp constarch)
biscuit topping
2 c. flour (AP or gluten free, depending on your preferences)
1/2 tsp kosher salt
2 Tbsp sugar
2-1/2 tsp baking powder
1-1/2 c heavy cream
1 tsp vanilla
1/4 tsp almond extract
Sanding sugar
Stir together filling ingredients, and place in a 2 qt. baking dish
In a mixing bowl, stir together flour, baking powder, sugar and salt. Stir almond extract and vanilla into cream, then add to the flour mixture. Stir with a fork until just combined. Drop by spoonfuls over filling. Sprinkle with sanding sugar.
Bake for 40-45 minutes, until fruit filling is bubbling around edges. Cover loosely with foil half way through baking to prevent overbrowing.
Serve warm, with ice cream.