Last weekend I braved a rather cold, rainy Summer afternoon to go berry picking – because I'd never had honeyberries OR Saskatoon berries and I wanted to give them a try. The season for both is pretty short, and I was afraid I might miss them entirely if I waited another week. That turned out to be a wise decision, since this weekend has been even soggier!
An hour and a half or so of picking got me 5 very full pints of each kind of berry. Also a job offer as a berry-picker. The Saskatoons were much easier picking than the honeyberries. Then, I made jam. And pie.
Since scrolling down for an hour before the recipe/instructions is a blog trope I'm very unfond of, let's do that part first. And the pretty pictures afterward.
If you have been, likewise, attempting to put up food and you're not reading this post from the future – when hopefully all of these logistical snag will be dealt with – you know that jars, lids, and commercial pectin are all in short supply. Luckily, I happened to have a box of jars I didn't use last year. But no pectin.
Think it over, though. Commericial pectin exists as a helpful adjunct to get jams to set more quickly and with less guess work. This means – you don't really need it most of the time. And neither of these berries need it.
Honeyberry Jam
1 and 1/2 lbs of fresh honeyberries
1 lb 12 oz sugar
No, really. That's it. Place the berries and the sugar into a nice large pot and mush them around together. Turn on the heat.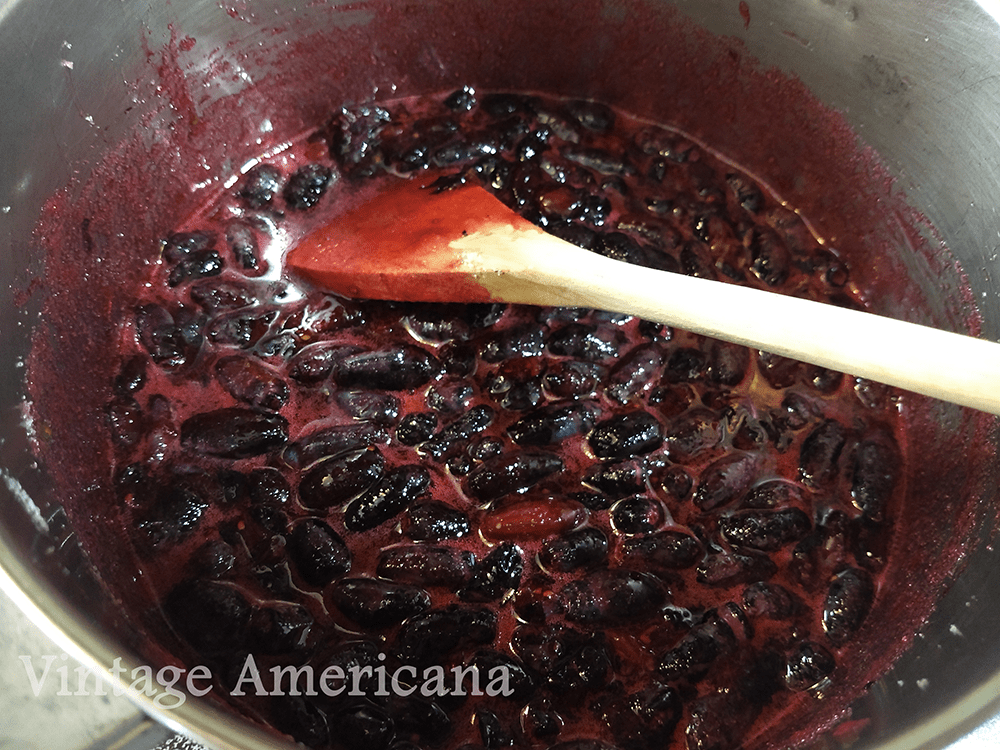 Bring the jam to a boil. And now you're going to let the jam boil away for a while, stirring occasionally. You don't have to stir it constantly, as long as you don't have the burner on High. You'll notice that gradually the surface changes from foamy to larger bubbles. And then to somewhat smaller bubbles as it thickens up.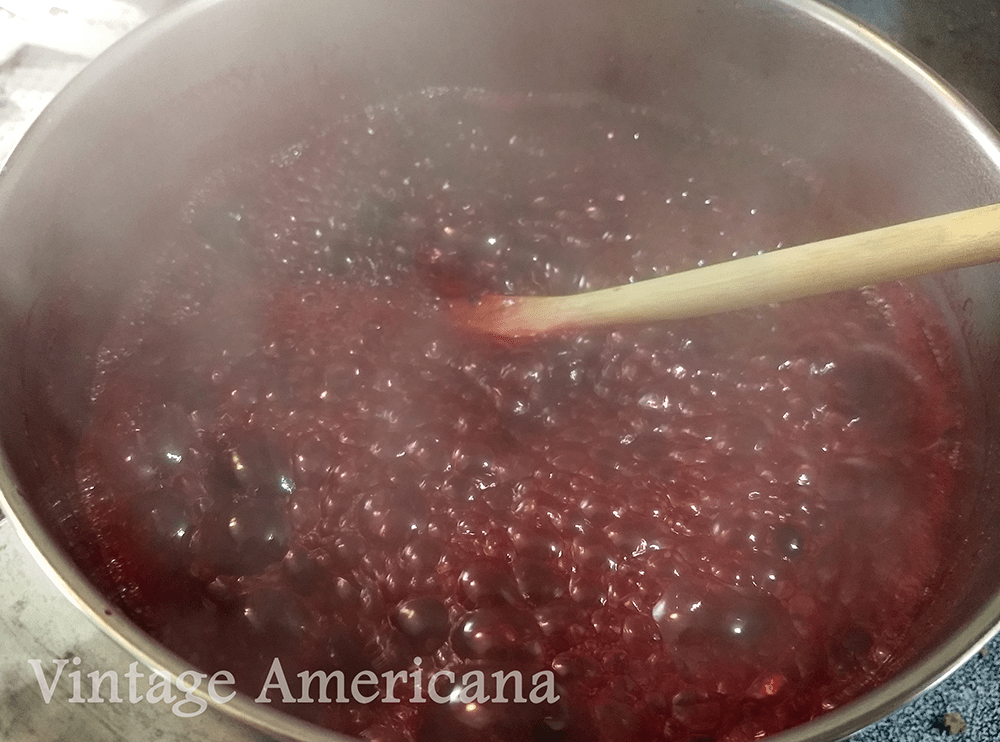 The trick here is to know when you've reached the elusive "jellying point." There are lots of ways to do it. And you can surf around for videos and other hints on what to look for. I tend to do two things – I put a plate in the freezer, and I look for the jam to start to "sheet" off a metal spoon. (That's the part you'll want a video to see). Once I see the jam starting to sheet, I grab my frozen plate and dribble a little jam onto it. After a few second, I tip the plate. It shouldn't run right down in a stream, but rather be a slower moving puddle.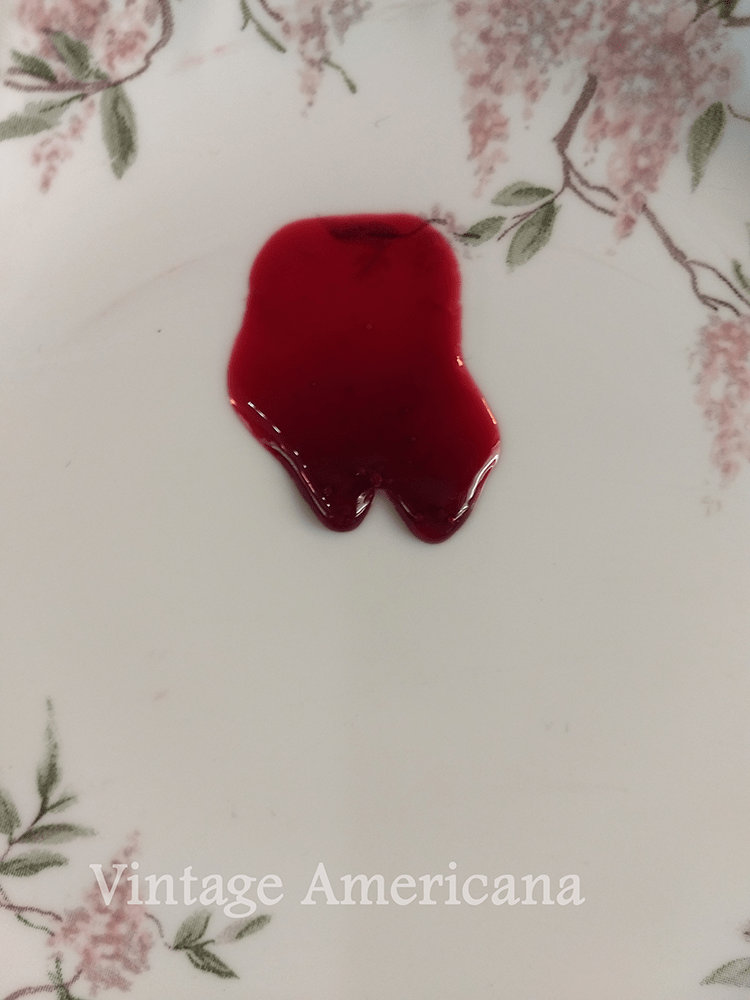 And, when you touch it with your fingertip, it's sticky, not liquid. It's ready! Pour it into your prepared jars and seal in your preferred manner.
Saskatoon jam is nearly the same, except that for a pound and half of fruit I used 1 lb, 4 oz of sugar and the juice of half a lemon. I could have gotten away with less sugar, as the berries are quite a lot sweeter than honeyberries. Everything else was exactly the same.
Since strawberry season coincides with honeyberries and Saskatoons, I also had a flat of those on hand to deal with. This was the only jam I used added pectin for, and it was also the only one that didn't set up properly. Go fig.
Just to pretty it all up, I designed some labels to put on my jars. Which would have worked slightly better with smooth jars, rather than the quilted glass – but I'm still pleased.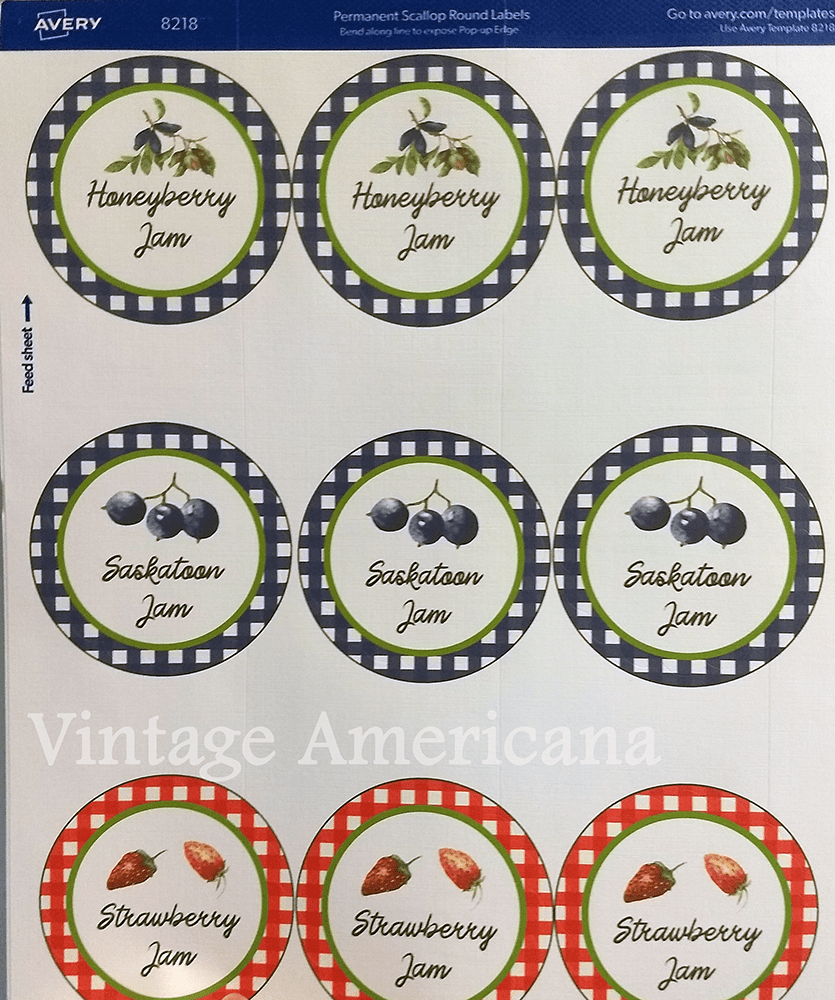 And NOW that you have your jammy instructions… I'll share some pretty pictures of berry picking.
If you're ever in West Michigan and have a yen for honeyberries or Saskatoons, I do recommend Treeline Bush and Berry. It's up on the Fruit Ridge, North of Grand Rapids. And even on a drizzly day it was just lovely.
Nice people, delicious berries. What's not to love? And five very full pints of each was enough for a batch of jam and a pie of each kind – as well as a decoy pint to keep my youngest child from eating ALL the berries. I didn't think to get pictures of the pies before they were GONE. Would you like recipes, anyway? I'll have to see what I can do on that count.
Fresh, my husband preferred the Saskatoon berries, as the honeyberries are very tart. However, in both jam and pie form – we both thought the honeyberries were quite a bit more complex.
Let me know what you think. And stay tuned to the Vintage Americana podcast for an episode on uncommon berries for the farmstead.