You read that right. It's a sweet-salty treat that screams "summer." My version doesn't have whole kernels in it, because I didn't care for that texture. It took me a few tries to get it right, but now Sweet Corn Ice Cream is a family favorite. As with most things, the better the quality of your ingredients, the better your end product will be. So, cook a few extra ears during peak season and give this a try.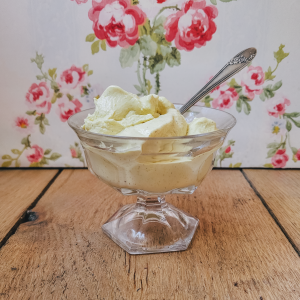 Sweet Corn Ice Cream
Ingredients
5

ears

sweet corn

cooked and removed from the cob

½

c

milk

more or less, depending on your corn

¾

c

sugar

4

egg yolks

½

tsp

kosher salt

plus more to taste

1 ½

c

heavy cream

1

tsp

vanilla extract

3-4

drops

egg yellow food coloring

if desired
Instructions
Puree the corn in a blender. Add just enough milk to allow the formation of a smooth puree. Pour it into a measuring cup. Add enough additional milk to make 1 ⅔ c. total.

Beat the egg yolks, then add the sugar to them. Stir together with a fork. Set aside.

Place the corn milk mixture in a medium saucepan. Heat to just below a simmer, around 190-200 F on a thermometer. Temper in the egg mixture. To do this, add very small amounts of the hot milk mixture to the egg/sugar mixture. Stir vigorously. Repeat until you have added about a cup of milk mixture to the eggs. Return all of the egg/milk/sugar mixture to the saucepan.

Stir thoroughly and continue to cook. Add the salt now, adjusting to your taste. The base will have a bit of a musky flavor at this point – that's OK. Remember that you'll be diluting the custard with cream AND freezing it later, both of which will make it taste less salty. So adjust the custard now to be slightly saltier than you prefer for your final product. Cook until the mixture thickens and coats the back of a spoon.

Strain through a sieve into a heatproof bowl. Cover with plastic wrap, making sure to seal the wrap to the surface of the cream. Refrigerate overnight.

Remove the wrap and stir in the cream and vanilla. Add food coloring, if desired. Pour into an ice cream maker and churn per the maufacturer's directions.
Notes
You can cook the ears of corn however you would like.  I usually grill sweet corn, so I just use leftover grilled ears.  But you could as easily boil, microwave, or oven bake your ears.  Just cook, cool, and remove the kernels from the cob with a sharp knife.
We eat first with our eyes, so I usually add a little food coloring to make the ice cream an appealing color.
Experimenting with ice cream flavors is a lot of fun. Some of your experiments will be failures. Others, like this one, will be resounding, delicious successes.
Take advantage of the last of summer to make at least one batch before the nights start getting colder.