Honey Caramel Panna Cotta
Why Honey Caramel Panna Cotta? Serendipity. When it comes to cultured dairy products, I'm a firm believer in experimentation. So, when my husband stopped off at our favorite local dairy for milk, and buttermilk – but accidentally came home with a half gallon of half-and-half, I decided it was time to play.
The very first thing I did was to caramelize the half and half. I poured something over a quart into a casserole dish and put in the oven at 190F for just over 24 hours. When I opened the oven door, the air that wafted out was redolent of caramel. And the dish of half-and-half looked like this: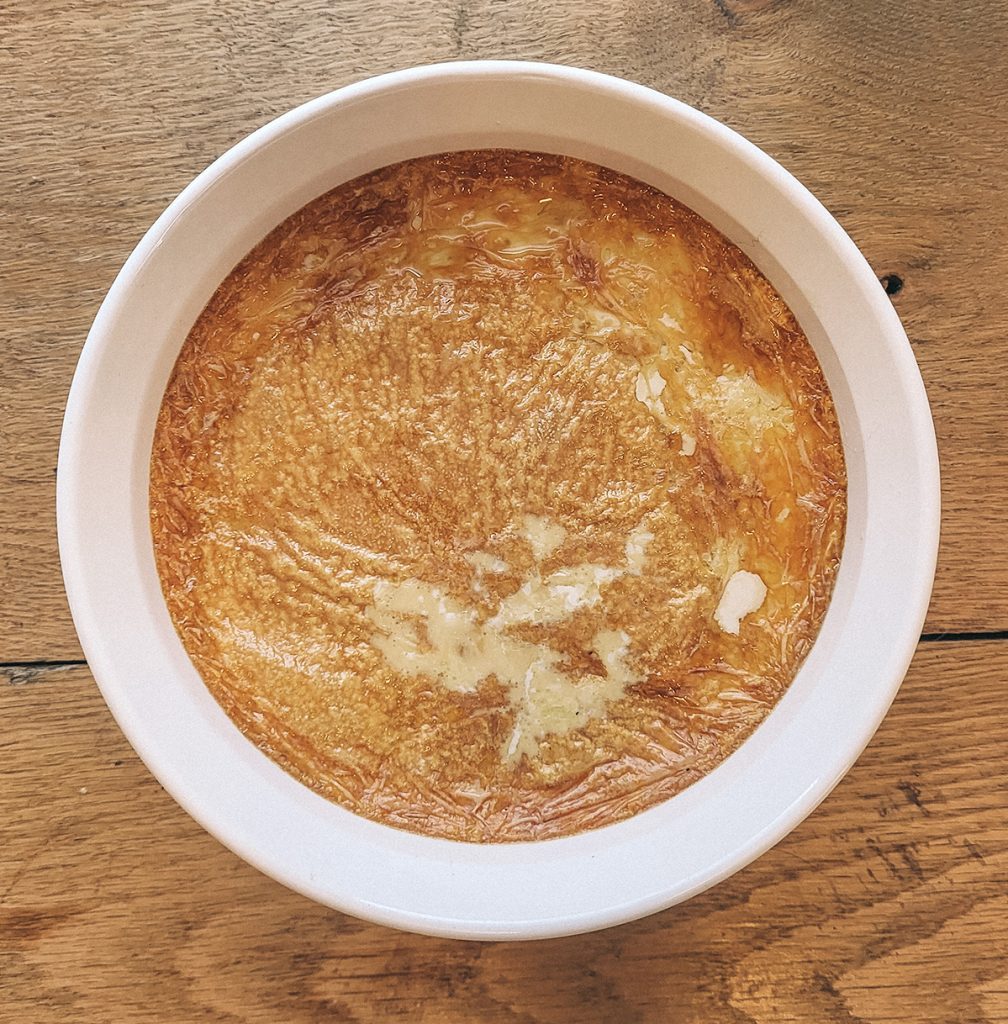 This is actually a trick you can do with any milk, and is worth doing just for making plain ol' yogurt more interesting. I chose to lift off the skin and discard it, as I don't care for the texture. But you can stir it in if you like. And it was the caramelized flavor that inspired the use of honey as the sweetner.
Once the milk cooled, I added some of my Swedish Cultured Sweet Cream to one pint, and placed the other in the refrigerator. This culture is mesophilic, so after about 24 hours at room temperature, it's ready to go. It's one of my favorite cultures, available from Postively Probiotic.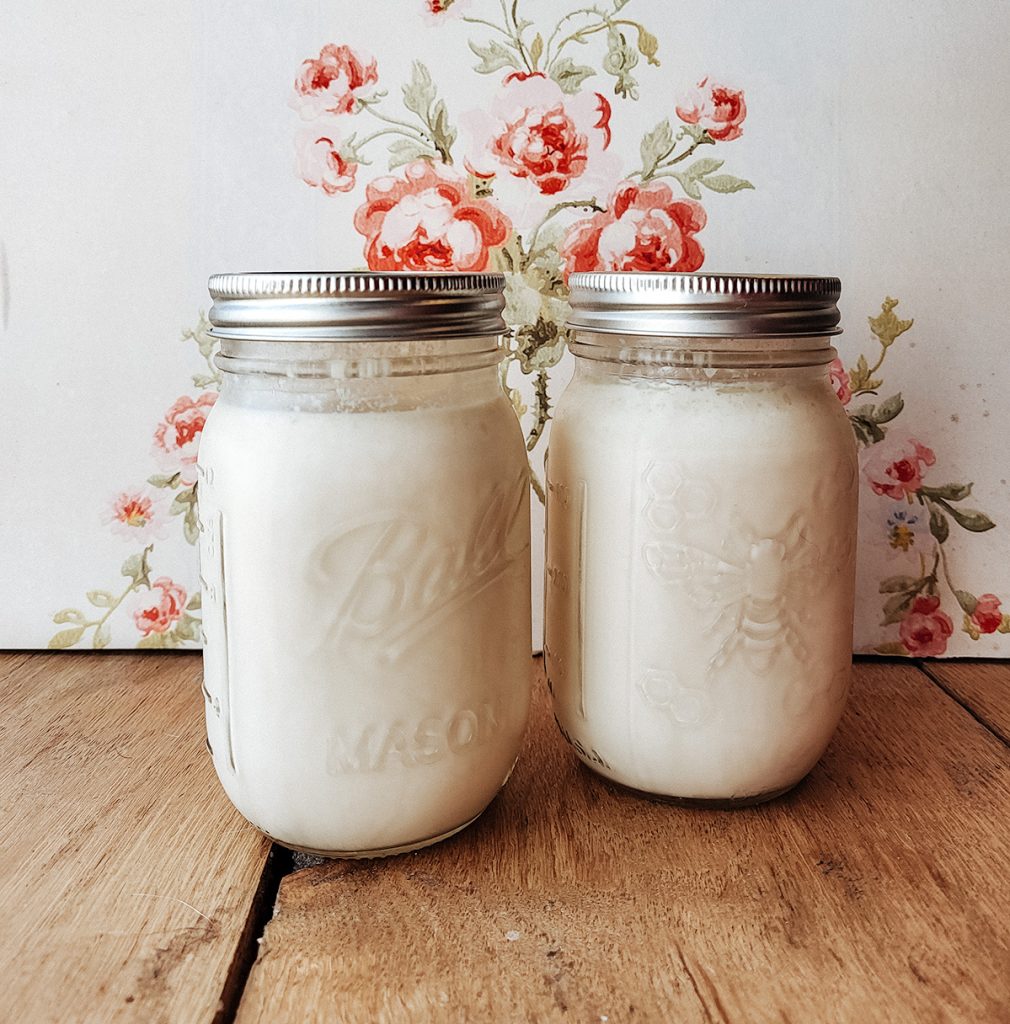 I'd also found these cute new jars with bees embossed on them, and they seemed perfect for the task. I admit, I'm one of those crazy loons who actually collects the various different jar styles. I've got the vintage aqua, the fluted, and a few other styles. I'm looking to add some Kilners to my collection, as well. After all, preserves should be pretty, as well as tasty. I even got some extra half pint jars to use for the dishes for this panna cotta. You could also use the 4 oz quilted jelly jars. Once you have your dairy all prepped, it's on to the recipe itself: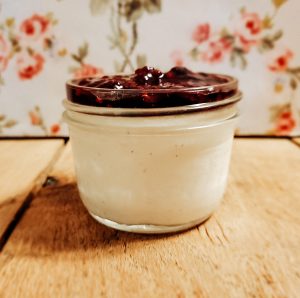 Caramel Honey Panna Cotta
Ingredients
Panna Cotta
2

c

Caramelized Cultured Half-and-Half

May substitute 2 c plain greek yogurt or skyr

2

c

Caramelized Half-and-Half

May substitute ¼ c dulce de leche + 1¾ c half-and-half

4

Tbsp

cold water

1

pkt

unflavored gelatin

2½ tsp.

⅓

c

honey

1

tsp

vanilla paste or extract
Fruit compote
12

oz

fresh or frozen mixed berries

A blend of blueberries, blackberries, raspeberries, and strawberries

½

c

sugar

1

Tbsp

cornstarch

juice of half a small lemon
Instructions
Panna Cotta
In a small bowl, sprinkle the gelatin over the water and allow to bloom for at least 5 minutes

In a medium bowl, whisk together cultured half-and-half, vanilla, and 1 c. of the plain caramelized half-and-half. Set aside.

In a small saucepan, heat remaining caramelized half-and-half and honey. Stir until honey is dissolved, and heat to just below a simmer. A little at a time, whisk hot half-and-half mixture into gelatin. Once gelatin is completely dissolved, combine with cultured mixture. Pour into individual dishes (4 8oz jars or 8 4oz jars) and refrigerate until set.
Fruit topping
In a small saucepan, toss berries with sugar and cornstarch. Stir in lemon juice. Cook over medium high until mixture boils, thickens, and turns clear. Cool completely.

To serve, top each panna cotta with fruit compote.
Notes
The caramelized half-and-half is made by placing 1 qt. of half-and-half into a casserole dish.  Heat in an oven set to 190F for at least 4 hours.
Half of the mixture can then be cultured.  I used a mesothilic Swedish sweet cream culture from Positively Probiotic.  You could also use a purchased Greek yogurt, but you'll need to culture it in a yogurt maker or an Instapot on the yogurt setting for about 10-12 hours.
The other half is used as it is.
If you'd rather skip this step, you can heat 1 3/4 c half-and-half in a saucepan.  Stir in 1/4 c canned dulce de leche.  Heat to around 190F, stirring until the dulce de leche is dissolved.  Replace the cultured half-and-half with whole milk Greek yogurt or Skyr.
You could really use just about any type of fruit to top this dessert. In season, peaches would probably be delicious. I might even have to try a batch with a little rhubarb, since it's that time of year. If you give this Honey Caramel Panna Cotta a try, let me know how you liked it!