Let's face it, Oatmeal Bakes are just better tasting than "overnight oatmeal." I've never liked the snotty texture of those concoctions, no matter how popular they may be. To appeal to my kids, this Speculaas Oatmeal Bake has the flavors of the ubiquitous Dutch Windmill Cookie. Almonds, molasses, and speculaas spice. It's also an excellent choice when you want to make breakfast for dinner. While still making dinner a stick-to-the-ribs affair, with enough protein to keep everybody happy until morning.
I've made up a jar of speculaas spice to keep on hand, although it can be had from specialty vendors. This version is pretty close to the one I use, although I dial back the anise, as I'm not fond of it. Remember that white pepper and black pepper are not interchangeable. And the white pepper is what gives speculaas spice its distinctive flavor. Can you smell it from here, fresh out of the oven? If you don't have speculaas spice, and don't want to make a batch, I'd suggest using 2 tsp cinnamon, 1/2 tsp ginger, and 1/4 tsp each of cloves and allspice. You could even replace 1 c. of the milk with 1 c. of cold coffee, and go 50:50 on the honey and molasses for a more "gingerbread mocha" flavor.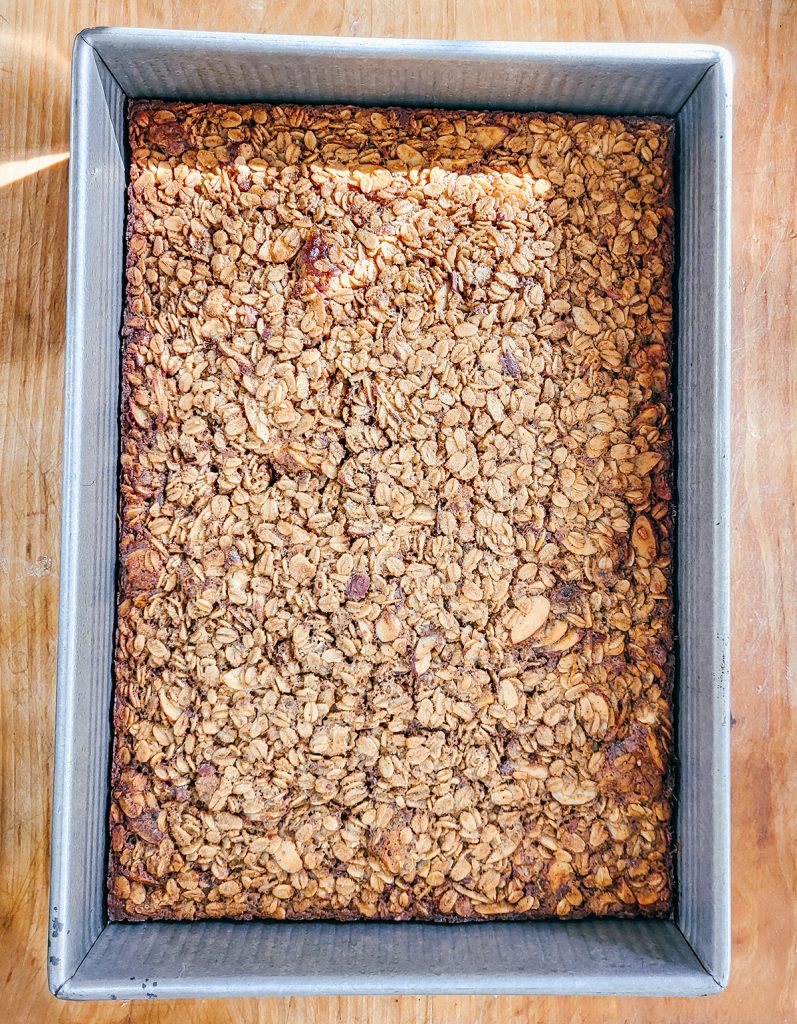 My favorite way to serve the Speculaas Oatmeal Bake is warm, with a little bit of vanilla whipped cream. In fact, I like to use whipped cream that has not been whipped to peaks, and is nearly a pouring cream. If it doesn't all get eaten right away, put the leftovers in the refrigerator. And make sure to warm them up to serve them the next time.
If you make it, do post on social media and tag me, or leave a comment here and tell me how you liked it.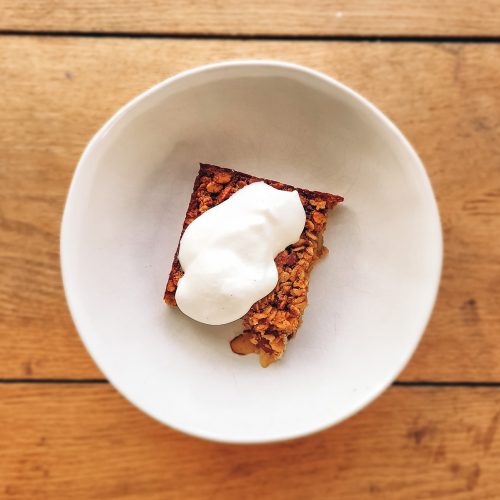 Speculaas Oatmeal Bake
A delicious breakfast bake with windmill cookie flavor
Ingredients
3

c

Rolled Oats

¾

c

oat flour

Or oatmeal that has been blitzed in the food processor until powdered

2

tsp

baking powder

1

tsp

kosher salt

3

tsp

Speculaas Spice

1

c

sliced almonds

4

eggs

6

Tbsp

unsalted butter, melted

½

c

honey

2

Tbsp

molasses

2

c

milk

¾

c

plain yogurt

1

tsp

almond extract
Instructions
Spray a 9 x 13" pan with baking spray. Preheat oven to

375

°F

In a large bowl, combine oats, oat flour, baking powder, salt, almonds, and spices.

In another bowl, whisk together eggs. Whisk in melted butter, that has been allowed to cool somewhat. Add honey, molasses, milk, yogurt, and almond extract. Blend thoroughly.

Add wet ingredients to dry ingredients. Stir until everything is thoroughly moistened. Pour batter into prepared pan.

Bake for 30-40 minutes, until dark golden brown and completely set.