Festival Season – Sort of
Normally, this is the time of year during which so many entertaining things are going on, I have trouble choosing what to do. The Michigan Fiber Festival and American Quilt Show Grand Rapids usually fall on the same weekend. Wisconsin Sheep and Wool typically falls in September, as do a few events within a reasonable distance.
This year, not so much. AQS is flat cancelled. I have some other things going on and couldn't take an extra weekend for WSW. And I was fairly ambivalent about MFF. Especially with a reinstituted "masks required inside buildings" policy.
My husband and I even talked about take the weekend and doing one last Summer thing with the girls. We threw around the idea of visiting Beaver Island, or even doing the UP State Fair. But the two of them have been irritating each other lately, to a much greater degree than normal. On balance, neither of us wanted to be in the car with both of them screaming for 6 hours. Each way. Or on a ferry boat for 2. Or trying to get them to sleep in the same room in a hotel.
So, in the end, I decided to at least chance the 'Fest. I thought about taking Rori, but she will not tolerate a mask. And the Karen Contingent is usually present at that event, en masse.
As it turned out, I probably could have brought her along, since that demographic segment was largely absent. Then again, so was everyone else: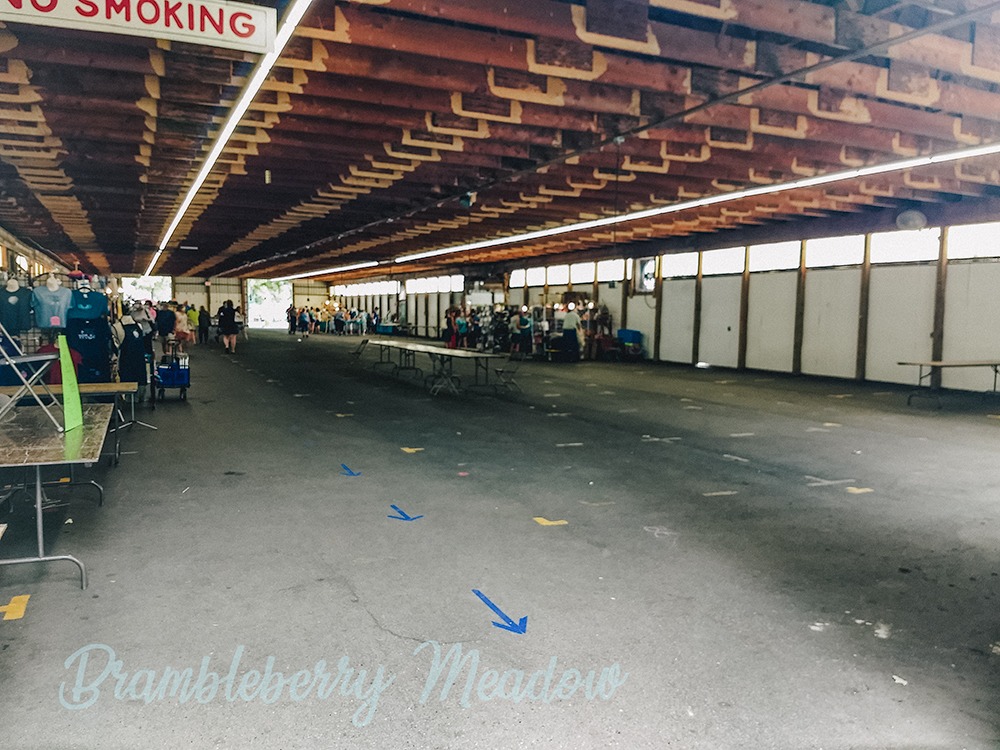 That barn is typically lined on both sides with booths, with a double row also up the center where the yellow tape marks are. Instead, you could have bowled in there, with very little danger of hitting anyone. There were another half dozen vendors set up outside. And a more filled barn on the other side of the grounds.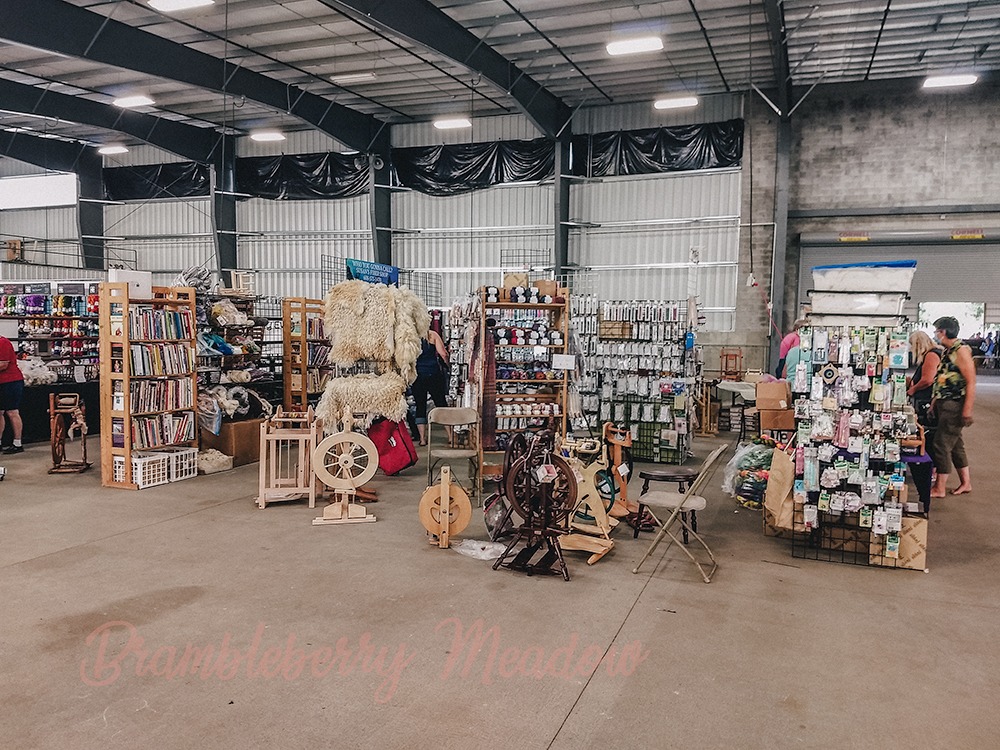 Formerly the "overflow" space, this back barn was recently rebuilt after storm damage, and now seems to be the preferred location for the vendors.
I'm not sure why vendor attendance was SO low this year (there were quite a lot of spaces that looked as if they'd been reserved by vendors who ended up not showing). One could speculate about the "red status" of the county in question for Covid infections scaring people off. Or, equally likely, the resumed mask requirement. And, most probably to my mind, the mental math most of them were doing that implied they would have a poor sales weekend, likely not even covering expenses.
I did my part, and picked up a Fair Isle hat kit, as well as some indie dyed yarn and a smattering of needles for both the hat and some sock knitting. I also stopped to watch the fleece judging. Since the judge describes, in detail, how she assesses each fleece, it's worth a bit of time for someone who is thinking about raising sheep someday.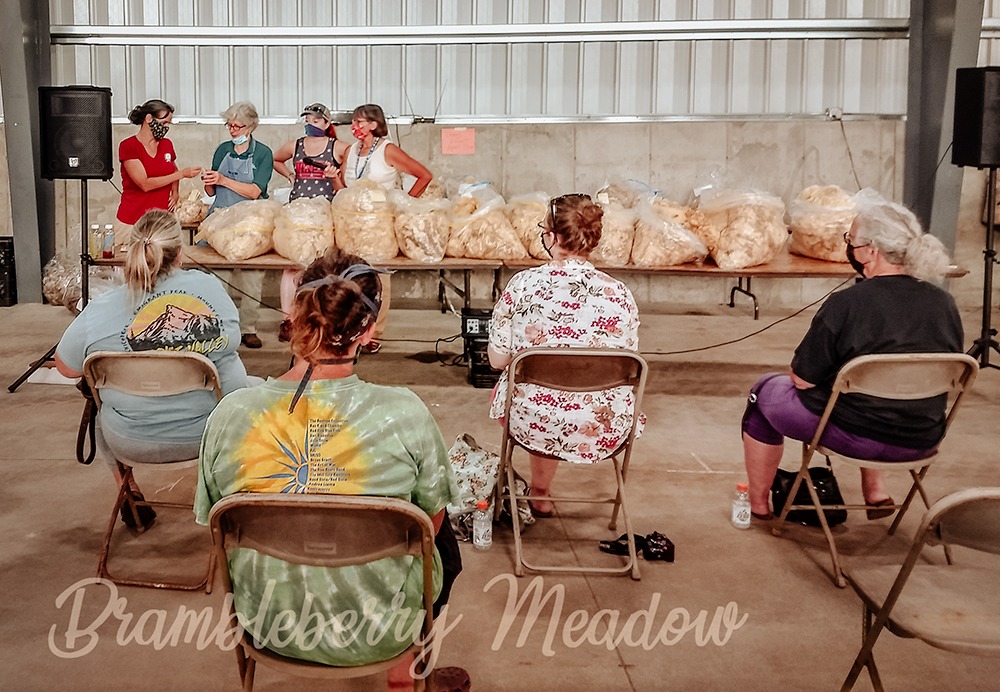 And, it was also worthwhile to go visit the sheep show. This was a colored long wool class.
And a stroll through the barns was fun, too. There were perhaps fewer sheep than past years, but it was also wicked hot. A strategic decision not to stress the sheep may have figured in.
I noticed once exhibitor had a quartet of Valais Blacknose sheep. The owner wasn't present to discuss how the breeding up program was proceeding, so I simply said "hello" to the sheep themselves and proceeded on my way.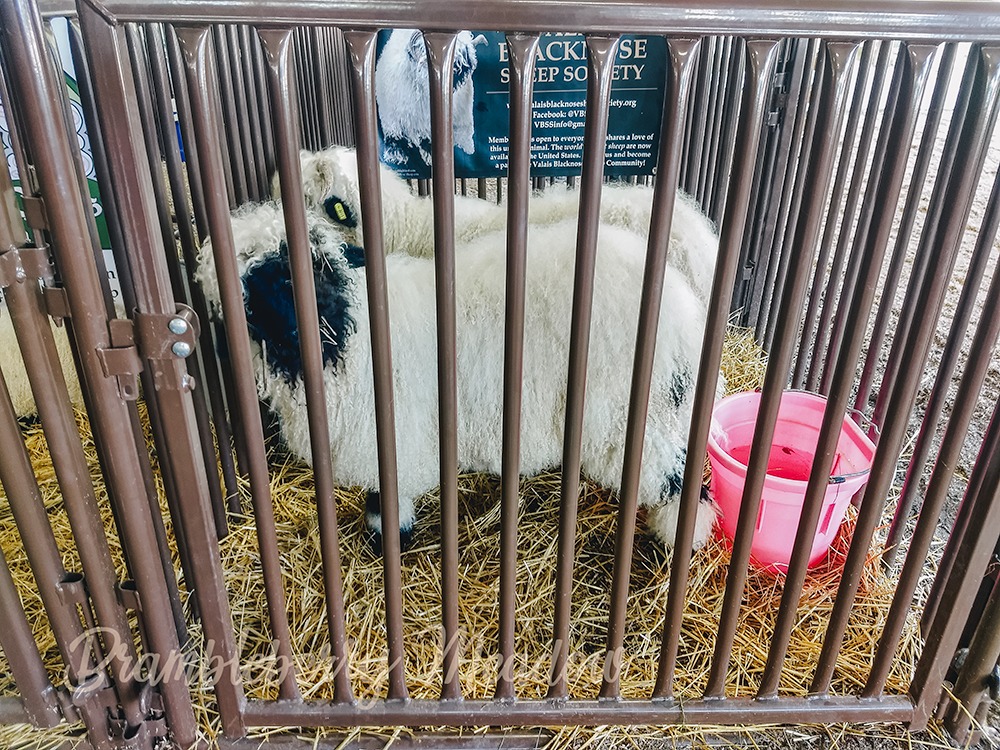 There were also Shetlands, Jacobs, Lincolns, Finnsheep, Scottish Blackface, and a few others I'm sure I've forgotten. As usual, Shetlands and Jacobs predominated. I do note, however, that colored breeds/sheep are becoming more common year by year.
You may see photos of my goodies later on, as in-progress or completed things. I will at least credit my trip with two things.
First, my knitting mojo is a little bit recharged. I'm trying to decide if I should start the hat kit this evening, or work on the freebie downloadable for the blog. The fact that I'd rather knit suggests that motivation is returning.
Second, the fairgrounds that hosts the 'fest has a "historic village" on site, made up of buildings that have been moved onto the grounds from around the county. It was open, and staffed by members of the Historical Society. But that's another tale entirely….