Voisilmäpulla – Finnish Butter Eye Buns
These little Voisilmäpulla – or Finnish Butter Eye Buns – are a favorite at my house. Redolent with cardamom and vanilla, these sweet pillows of dough have a sweet crunch. I gave this set a new spring look by using some colored sugar sprinkles. Vary yours by season!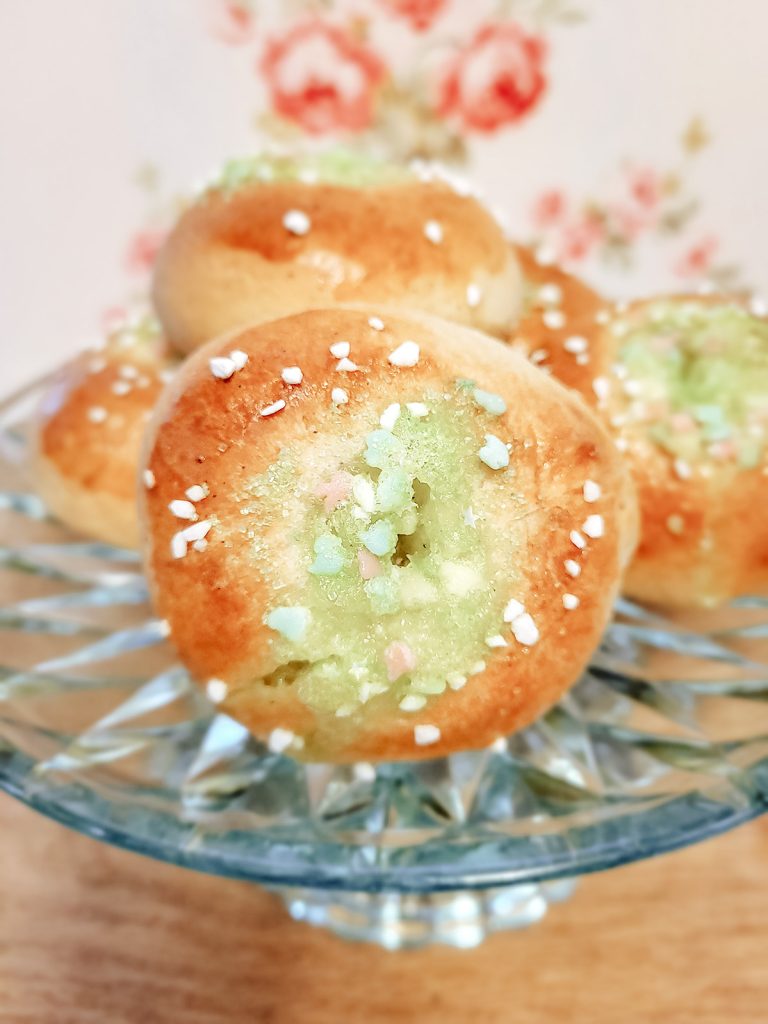 Jump to Recipe
It must be admitted, the Scandinavians have got the best "fika" breads and pastries. Just the perfect little tidbit to nosh while sipping your favorite hot beverage and chatting with a friend. I still think we should bring back the habit of "visiting." And these are a perfect treat to serve guests. Even without the springtime sugar.
I find bread-making to be quiet and contemplative. Enriched bread recipes like this one (with milk, butter, sugar, and eggs) tend to be somewhat more forgiving than something like a plain flour/water/yeast/salt loaf. So give it a go. Shaping the buns does take a bit of practice. It's something I learned from my mother, watching her make dinner rolls. Take a small piece of dough, roll it into a ball, and flatten it into a disc. Then, make a circle of your 3rd finger and thumb, and start to feed the disc through, a little like blowing a bubble. Continue tucking all the dough through the ring of your fingers from below. Like so: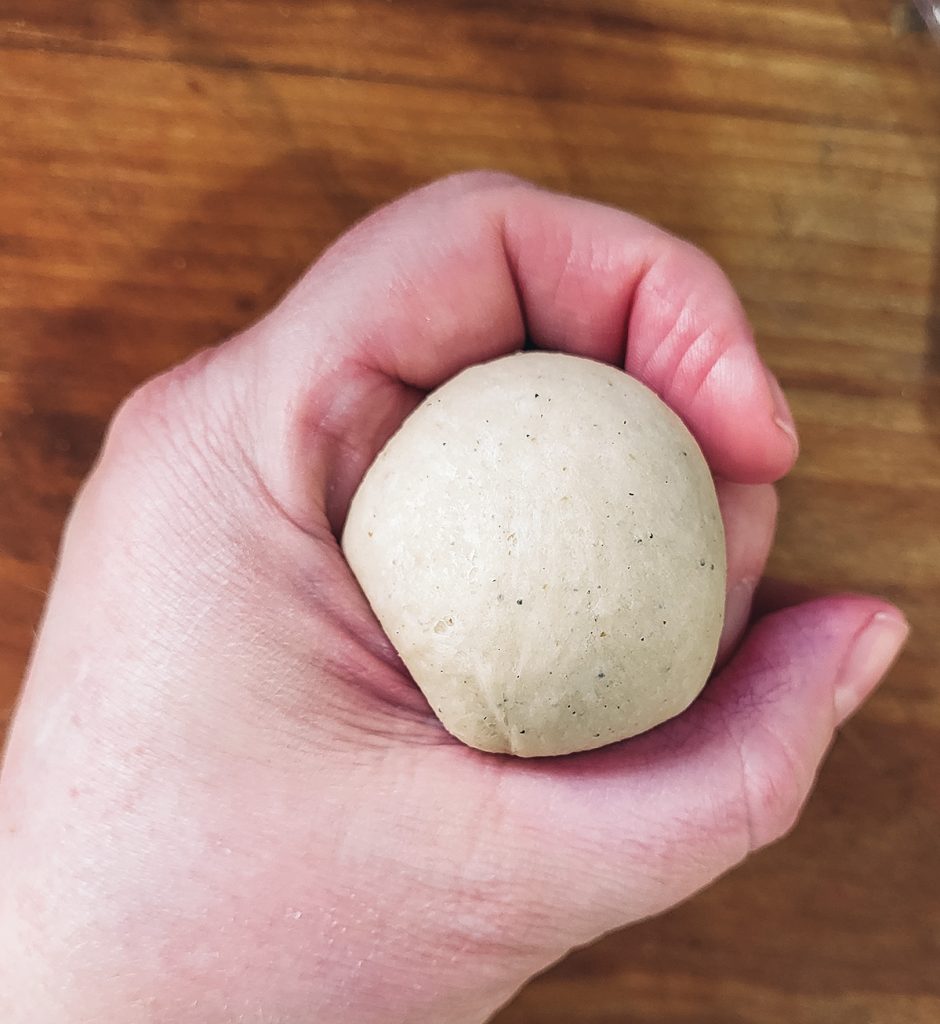 This makes a nice, smooth little ball. Set it on your pan with the bottom portion on the pan.
A few notes: Swedish pearl sugar can be had from specialty grocery stores, or online from King Arthur. The cardamom used here is green cardamom. I get mine from The Spice House. I buy the ground, because I'm too lazy to dig out my grinder. The better your ingredients, the better your finished product will be.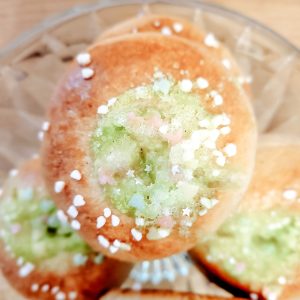 Voisilmäpulla – Finnish Butter Eye Buns
Cardamom-scented buns with a butter-and-sugar crunch
Ingredients
1½

c

milk

warmed to about 110 F

65

g

sugar

about ½c + 1 Tbsp

3½

tsp

active yeast

1½

tsp

ground cardamom

1

tsp

kosher salt

200

g

unsalted butter

10½ Tbsp

1

egg

640-690

g

AP flour

4½-5 c

1

tsp

vanilla
Filling
1-1½

sticks

salted butter

granulated sugar to top
Finishing
1

egg

beaten

Swedish pearl sugar
Instructions
Whisk the sugar, yeast, cardamom, and vanilla into the warm milk. Set aside for 5-10 minutes until foamy

Melt butter and allow to cool to luke warm.

In the bowl of a stand mixer, combine the milk mixture with the butter, and add the salt. With the mixer running, add about half of the flour and the egg.

Continue to add flour until a smooth dough comes together. Knead in the mixer for abouout 5 minutes, or by hand for 10, until dough is smooth and elastic. Oil a bowl, place the dough in it, turning once to coat. Cover and allow to rise in a warm place for 45min-1hr or until doubled.

While dough is rising, cut butter for filling into 30 small cubes and place in the freezer.

Turn out onto a lightly floured surface. Divide into 30 equal balls (45g ea). Roll into smooth balls and place on baking sheet. Allow to rise another 30 minutes. While dough is rising, preheat oven to 400 F.

Once risen, press a deep hole into the center of each bun. Place a cube of frozen butter in the hole, and top with a little granulated sugar (enough to fill the rest of the hole and cover the butter).

Beat the egg into an egg wash, and coat the bun (avoiding the centers). Sprinkle with Swedish pearl sugar.

Bake for about 15 minutes, until golden brown and delicious.
Go make your own batch of voisilmäpulla. Don't forget to take a picture and tag me on social media!