Fine sewing is not the same as cranking out Halloween costumes. And don't mistake me – I do that too. Every year! But the materials necessarily are different. I've talked before about being a tool snob. But I will confess I am also a materials snob. This is for a couple of reasons. First, I don't have THAT much free time, and I'm unwilling to waste it on something that won't turn out well or won't wear well, simply because I skimped on the fabric. And second, I finally worked out that it's actually much easier to get a good result with quality materials.
Let's, then, have a little talk about fine cotton for sewing. Throughout the 18th and 19th centuries, cotton was a premium fabric. One of the most expensive fabrics in the British Empire was Indian cotton muslin. (Hint: when you're talking about historic fashion, keep in mind that what we call various fabrics changes based on place and time period. This muslin was NOT anything like the cheap bolts you can find at JoAnn under that name, useful for mocking up patterns. It was closer to a Swiss Batiste, modernly). Hence, the scene in "Little Women" where Jo and Meg are invited to a party and their best dresses are their muslins.
Fine cotton is still appropriate for sewing delicate items for babies, children, and ladies. Baptismal gowns, smocked dresses, lace-trimmed blouses. And anything you want to make that has that vaguely vintage flair. But you should know something about the types of cottons available and what is suitable for your project. This is by no means an exhaustive list, but here are some of the choices: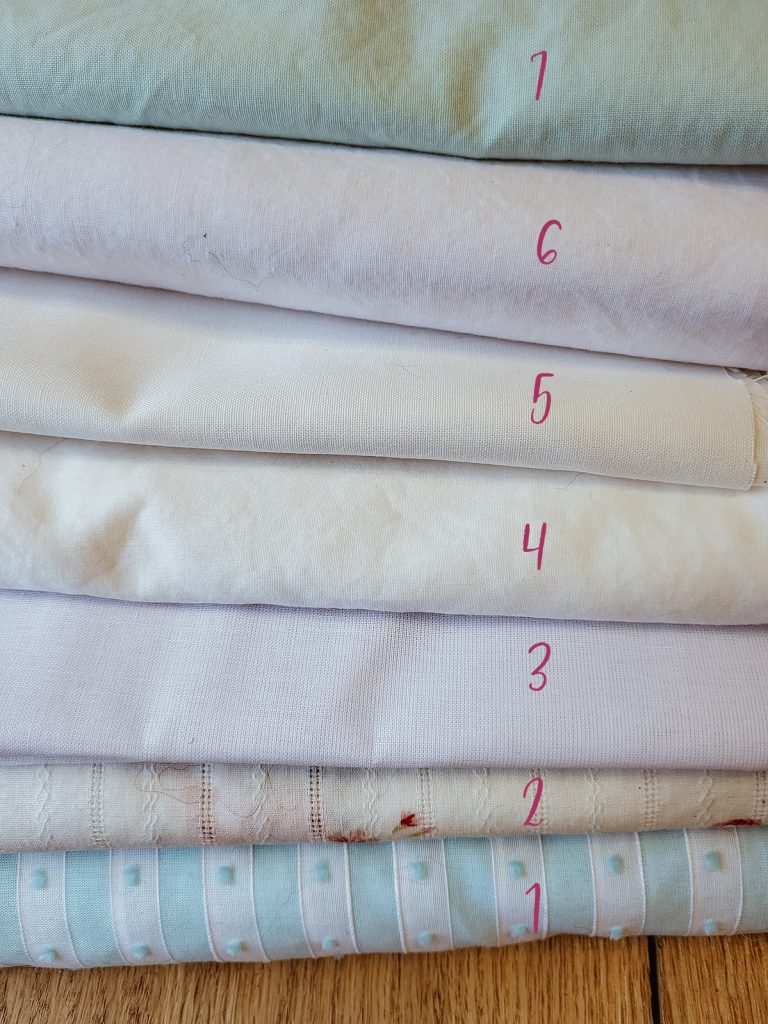 Number 1 – Dotted Swiss batiste. This is a classic fabric, especially for children's clothing. The base fabric is a fine batiste – a plain weave fabric made from very fine threads. It's very sheer, and needs to be lined with something or will require a slip. The stripes are woven into the fabric – not printed. And the dots are embroidered on. It costs the Earth. This little piece was given to me by my aunt. It hasn't yet found its way into a garment for one of my daughters, but it's likely that it will at some point. Here's a close-up: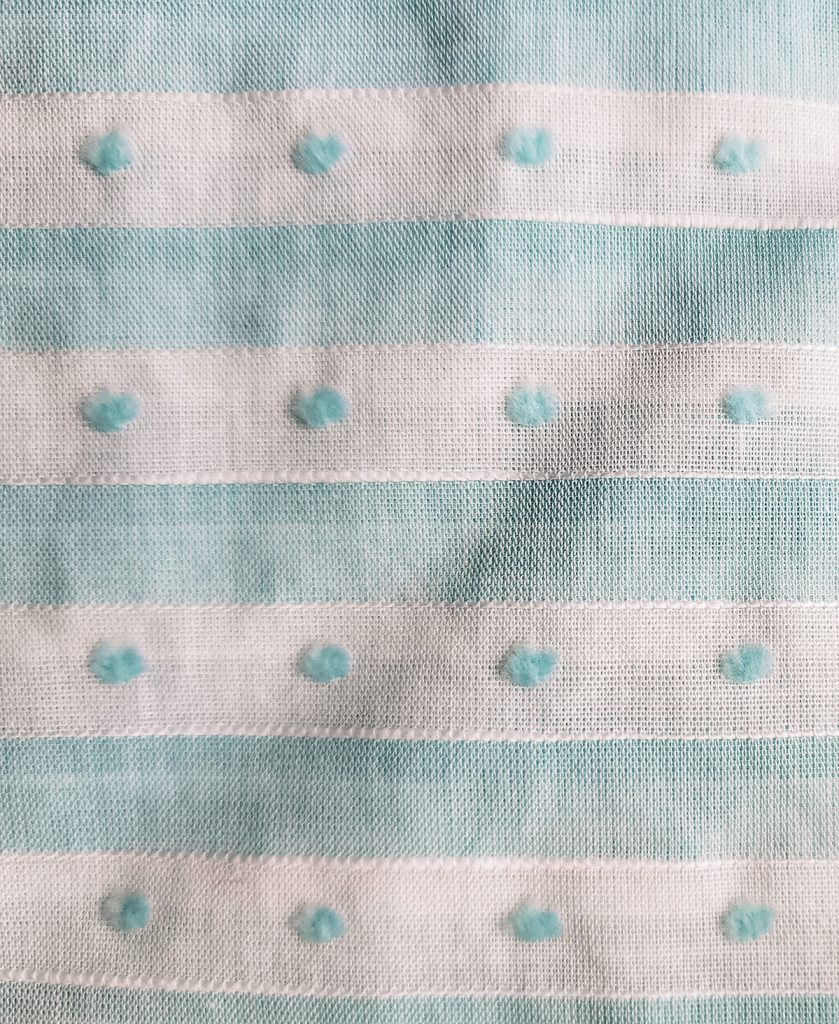 It's beautiful to work with. Dotted Swiss also comes in a plain, non-striped version. This can be tone-on-tone, or contrasting. White-on-white dotted Swiss was frequently used in Edwardian-era ladies' gowns. Little girls' dresses are beautiful in pink-on-pink, or even the pink dots-on-white.
Number 2 – Cotton Dimity. Dimity is an old-fashioned fabric, and tends to be quite difficult to source these days. It's woven with warp-wise (which tends to mean lengthwise) threads doubled or combined into a ridged pattern. It's lightweight, crisp, and lovely to work with and wear.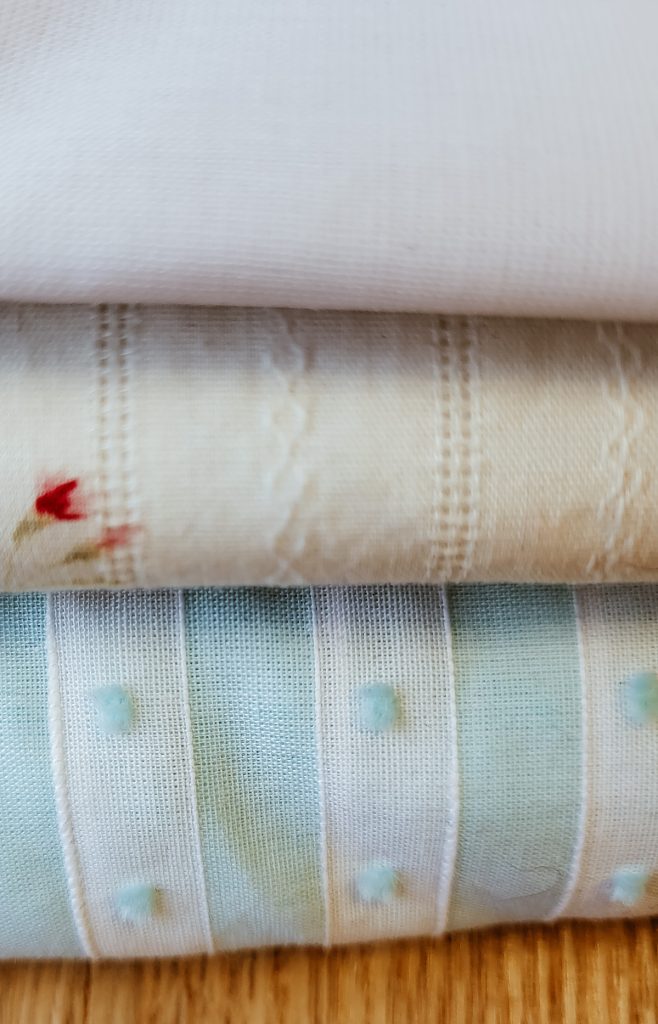 This particular dimity has an entredeaux-like stripe, and sprays of flowers printed on it. It recreates a vintage style of fabric, in a vintage print. It makes lovely summer blouses and dresses. Although the directionality always has to be accounted for. With this one, you might also want to allow extra fabric for matching the design – sort of like wallpaper.
Number 3 – Cotton Organdy. Organdy has a looser weave but is heavily starched. Traditionally, it was used for things like aprons and bonnets. Things that were decorative and didn't get washed too often. (And when I say "apron," I mean more of a hostess apron or other fashion apron, rather than a working apron. Too many washings can remove the starch. And although you can restarch organdy, it's a pain. I've also used it as a form of interfacing. It makes a nice interlayer for things like cuffs on tailored blouses.
If I am to be completely honest, I don't think I've ever worked with a really high-quality organdy. So perhaps I should reserve judgment a little bit. If I find some of the good stuff, I'll do a review for you, too.
Number 4 – Cotton Voile. Like Organdy, voile is a very loosely woven fabric. It's not starched, so it has a very light, soft drape. Voile is quite sheer, and probably the closest thing on the market today to the fine muslins of the Victorian and Edwardian Age. If you can find a very nice one. Note: you do NOT want the rather coarse home decorating polyester voile. Unless you're making window sheers. It will not be nearly as nice to work with, and it won't be cool to wear.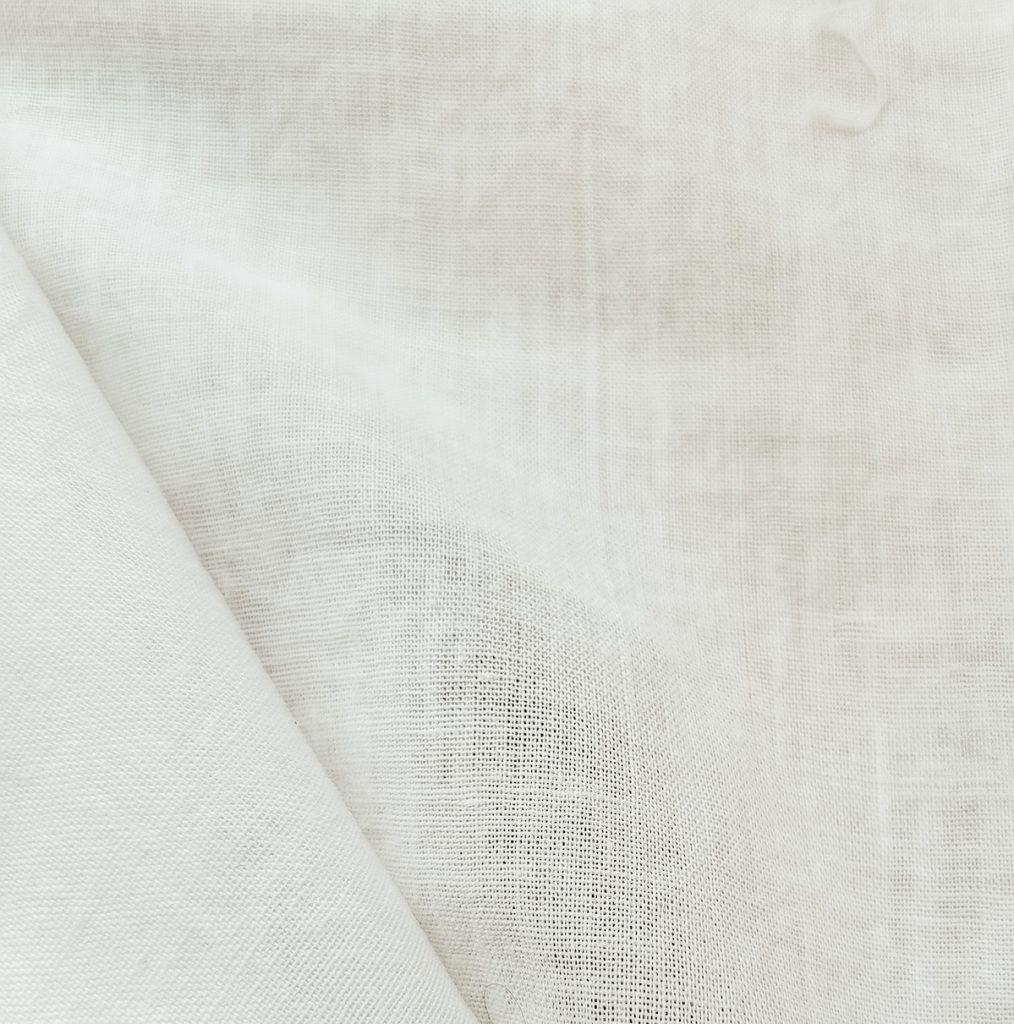 Voile will need to be lined, or worn over a slip. It embroiders beautifully, although you can't carry threads across the back. And it will take the finest turned hems.
Number 5 – Cotton batiste. Batiste is finer than quilting Muslin and heavier than voile. The quintessential fine heirloom sewing fabric, batiste is the traditional choice for little girls' dresses, ladies lingerie, and other items that require a very light, fine fabric. It really shines when different fabric manipulation techniques are employed smocking, pin tucks, lace insertion, hemstitching, and so on. There are varying qualities and fabric content. The creme de la creme is Swiss batiste, which, like the dotted Swiss, costs the Earth. You can find it from most shops that sell heirloom sewing fabrics. Usually they will also offer another version of somewhat lower, but still very nice quality.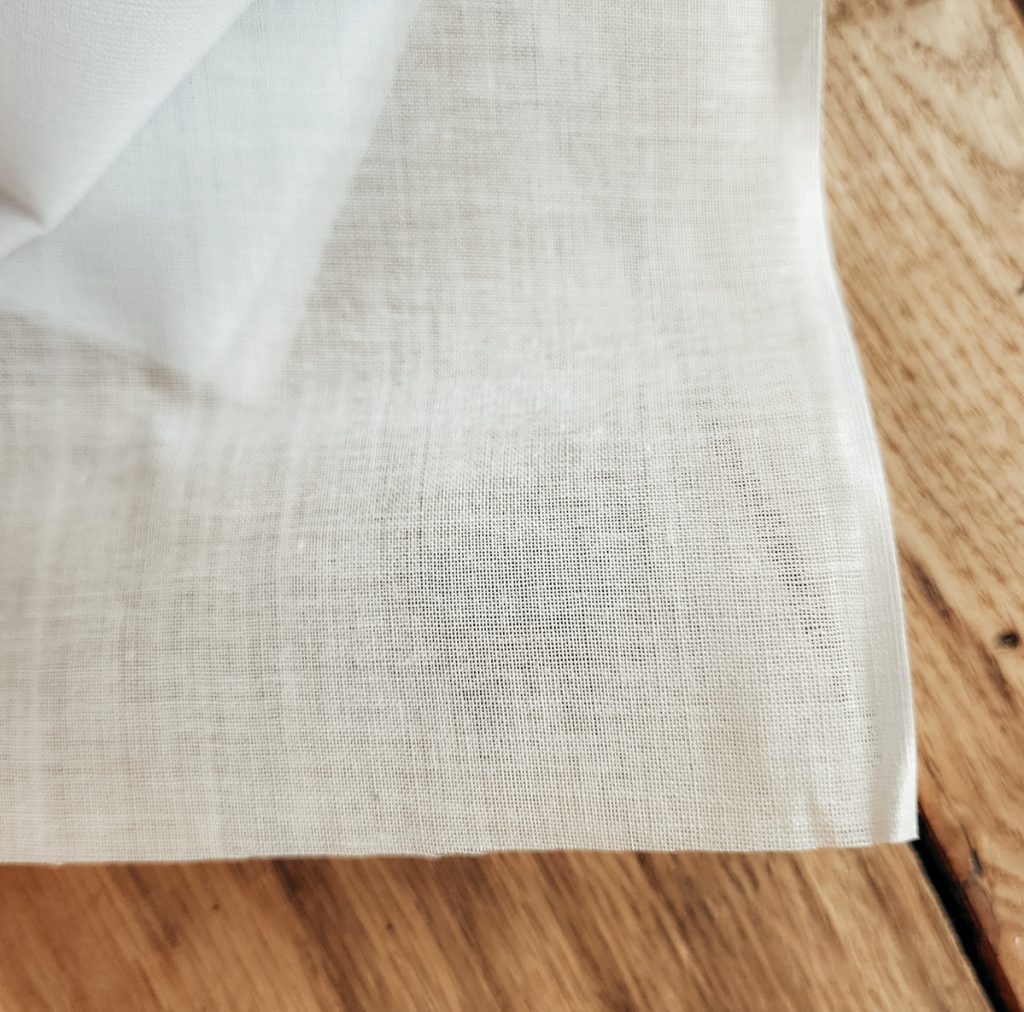 For the truly budget minded, I recommend Imperial Batiste. It's a cotton-poly blend, but it's got a silk finish and is really fabulous for little girls dresses. It doesn't require as much pressing as the pure cotton versions and wears a little harder. And it comes in a host of colors. If you want to try your hand at heirloom sewing, shadow embroidery, or baby daygowns, I recommend it.
Number 6 – Cotton Lawn. Lawn lives somewhere between batiste and a standard cotton broadcloth (which is usually a little heavier fabric than is used for fine hand sewing). You'll find lawns, sometimes called Pima lawns after the variety of cotton they are sometimes made from, at both heirloom sewing shops and standard fabric stores. Although usually not the Big Box types.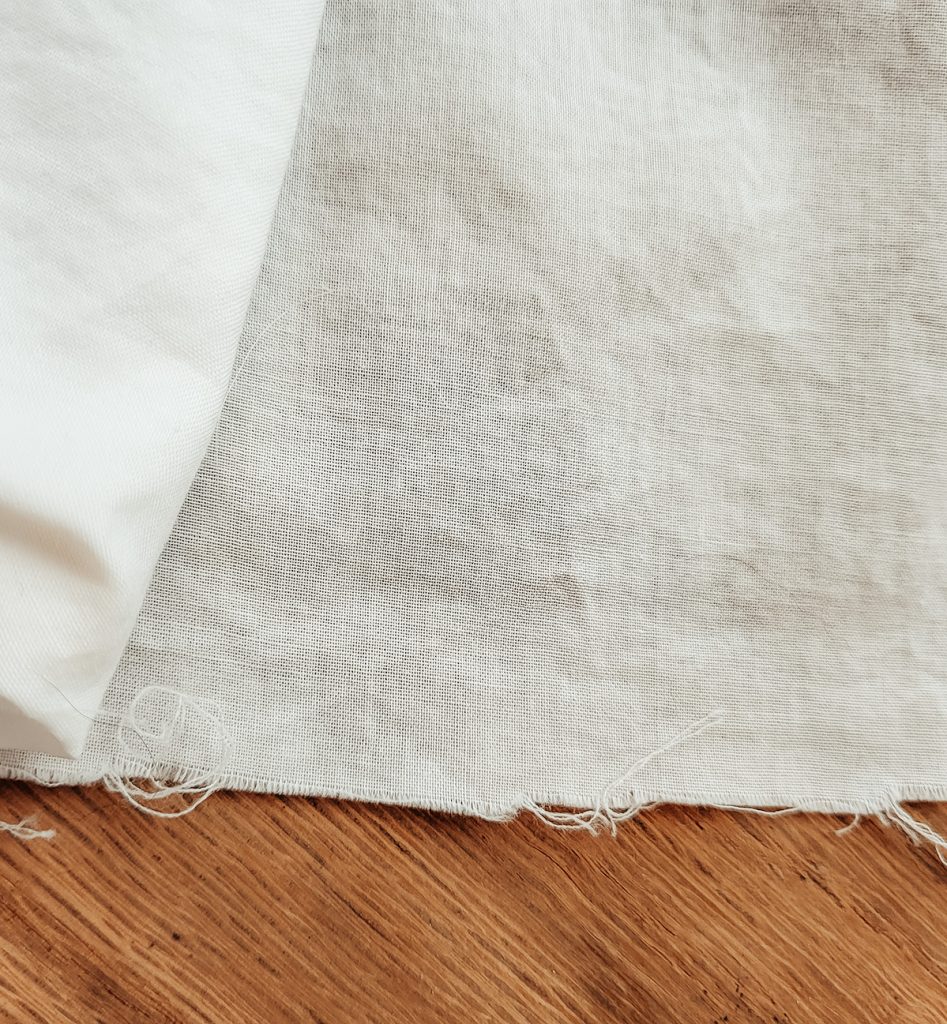 It also takes very nice tucks, smocks beautifully, and has a lovely drape. Unlike voile and sometimes batiste, lawn has the heft to stand up to somewhat heavier laces, like cluny or very tiny crochet edgings. My local fabric chain, Fields, reliably stocks lawn in several colors, so it's something of a staple in my sewing cabinet.
Number 7- Cotton muslin or broadcloth. This is a tightly woven, smooth cotton fabric. Modernly, it's mostly considered a quilting fabric and the nicer types are produced by quilting fabric companies like Moda and Robert Kaufman. It's actually a little difficult for sewing clothing. Nothing about cotton quilting fabrics washes up nicely. They WILL require some aggressive pressing and some sort of aid like Flatter or Best Press. And even at that, they tend to develop odd creases especially in hems and facings. The broadcloth in the stack is mint. One of the major advantages of cotton broadcloth is the rainbow of colors you can find it in. I also have a close-up of a creamy muslin by the same company, so you can see the weave: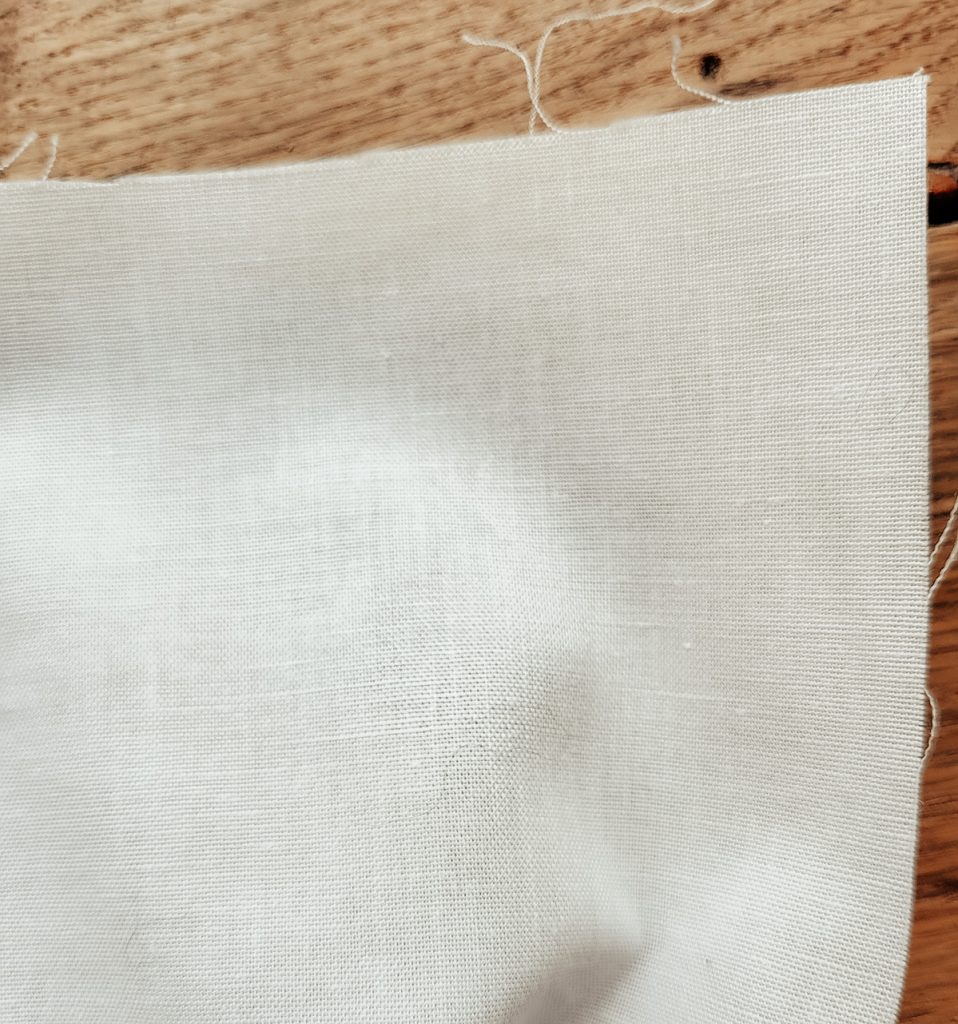 Muslin does have its uses, though. I like it for a lot of smaller fine sewing projects. Pincushions. Needlebooks. Totes and other small projects. It is nice to sew with and will take a reasonably fine seam. What you DON'T want to work with is the super cheap, $0.99 muslin from the big box stores. That's a much coarser product. It's great for patterning and sometimes useful for linings. But it's not the same as the quality muslin.
If you're ready to order some fine fabrics for your own sewing room, I recommend Farmhouse Fabrics. They're so helpful and have the most drool-worthy curated collection of fabrics you can find. And, Oooohhh – they have Bobinette in a bunch of colors…
I hope I've managed to clarify, at least a little, some of the fabrics available. Don't forget to come back by the blog and show me any pretties you make!